US Senator Edward J. Markey (D-Massachusetts) met with Mashpee Wampanoag Tribal leaders on Tuesday, April 6, and toured the tribe's government center and health clinic after passage of the American Rescue Plan, which he said invests $31.2 billion in resources for Native American communities.
Working in close coordination with the tribe, the Indian Health Service, a division within the US Department of Health and Human Services, has rolled out a program that has vaccinated tribal members, their immediate families and Mashpee public school teachers.
"We have seen how indigenous communities across the country have surpassed states in vaccination in many places," Sen. Markey said, praising the tribe for vaccinating many of its own members and staff in the Mashpee public school system. "We congratulate you on that and the leadership that you are showing."
Rita Gonsalves, chief executive officer of the Mashpee Service Unit branch of the Indian Health Service, said the tribe's clinic has administered vaccines to about 800 tribal members and vaccinated 148 staff in the Mashpee school system.
"We have one school on reservation, but a large population of children go off reservation to schools," Ms. Gonsalves said. "So we vaccinated the Mashpee public school teachers."
She said the tribal clinic is now offering vaccinations to all tribal members age 16 and older as well as "nonbeneficiaries of the tribe," such as the spouses of tribal members and local teachers.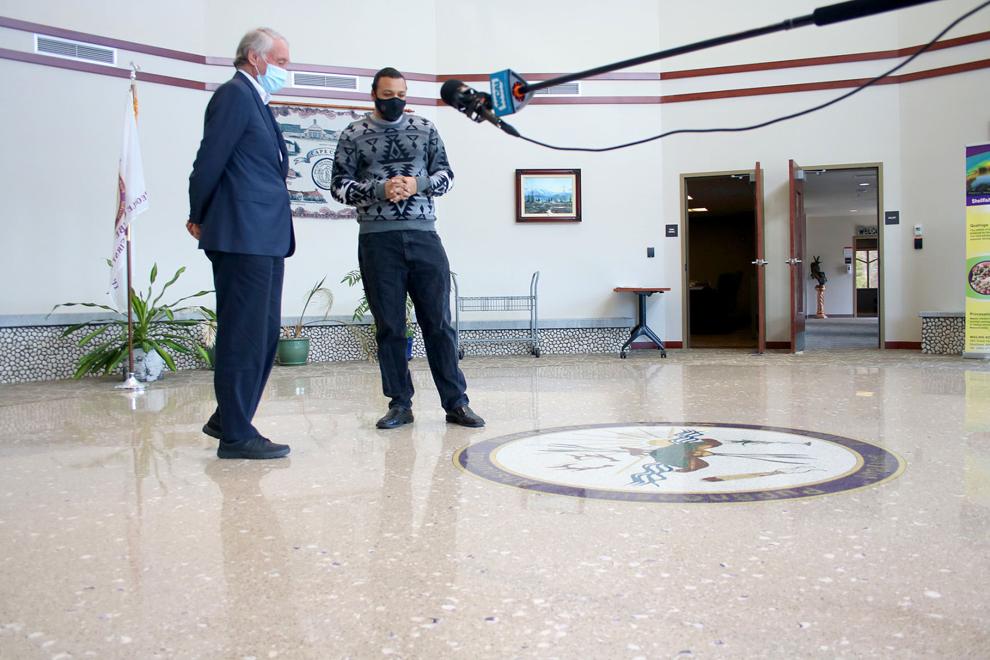 Nelson Andrews Jr., emergency management director for the Mashpee Wampanoag Tribe, said about 30 percent of tribal members have been vaccinated, though not all tribal members live in the county or state. The Mashpee Wampanoag Tribe has about 2,600 enrolled members.
"It seems as though the majority of folks are open and willing to receive the vaccination," he said, adding that the Indian Health Services clinic "is actually opening up to Barnstable and Falmouth schoolteachers as well."
Sen. Markey was led through the tribe's government center, where tribal council member Brian Weeden pointed out photos of the tribe's elders hanging in a gallery.
"Some of them have passed on," Mr. Weeden said. "We try to recognize our elders; our elders are the backbone of our tribe."
"This is our former chief, Vernon Pocknett, and our current chief is Vernon (Silent Drum) Lopez," he said. "He is 98 years old; he is one of the eldest living members of the tribe, currently."
"Ninety-eight? Give my best to him, will you?" Sen. Markey responded.
In prepared remarks, Sen. Markey noted the staggering toll that the COVID-19 pandemic has taken on tribal nations throughout the United States.
"The Centers for Disease Control reported that indigenous people living in the United States are more likely to contract COVID than their white counterparts. Additionally, the CDC reports that indigenous people with COVID are 2.4 times more likely to die than their white counterparts," he said. "This isn't solely due to the lack of COVID relief in previous [stimulus] packages but should be attributed to the numerous pre-pandemic systemic inequities that have disproportionately plagued indigenous communities for decades in the United States."
The American Rescue Plan, which President Joseph R. Biden Jr. signed into law last month, provides $31 billion in relief funding for tribal governments and programs, including $6 billion that is designated to the Indian Health Services to help accelerate the output of COVID-19 tests and vaccines, Sen. Markey said.
"Finally federal dollars given to these communities are beginning to reflect the enormous economic, social and cultural contributions that tribal nations make across our country," the senator said.
The tour ended at the Mashpee tribal clinic, where Sen. Markey met with Lieutenant Commander Kelsey Simm, a nurse practitioner with the Commissioned Corps of the US Public Health Service.
"It's been a team lift in conjunction with the tribe," Ms. Simm said. "It's been strange and amazing and wonderful. we're getting tribal members from across the whole New England region, really, and even some from outside of there."
Throughout the tour, Sen. Markey repeatedly asked whether the tribe had enough vaccine doses or needed further federal assistance.
Ms. Gonsalves said the tribe has adequate vaccine supply and will redistribute 870 doses to the Wampanoag Tribe of Gay Head Aquinnah, on Martha's Vineyard.
In a selfie video at the end of the tour, Sen. Markey described the vaccination program being rolled out by the Indian Health Service in coordination with the Mashpee Wampanoag Tribe as "a model for what is happening in tribal communities."