A graphic meme of comedian Kathy Griffin holding President-elect Joseph R. Biden Jr.'s severed head. A wanted poster with photos of billionaire tech moguls such as Jack Dorsey of Twitter and Mark Zuckerberg of Facebook under the text "Time to build the Gallows!" Calls for civil war and for "patriots to amass & shoot them dead."
This is a sampling of some of the inflammatory content posted in the past week on SayScape, a social media platform owned by two local veterans who said the platform has gained 900 new members since supporters of President Donald J. Trump attacked the US Capitol on January 6.
Mashpee resident Christopher C. Santos, a former Mashpee School Committee chairman, created SayScape with Marstons Mills resident Justin Wade almost two years ago. Mr. Santos and Mr. Wade, who both work in information technology for the Air National Guard at Joint Base Cape Cod, said in a phone interview on Wednesday, January 13, that SayScape just reached 3,100 members.
SayScape, which brands itself as "truly unbiased" and "veteran-owned," has a website as well as an official app on both the Apple and Google Play app stores.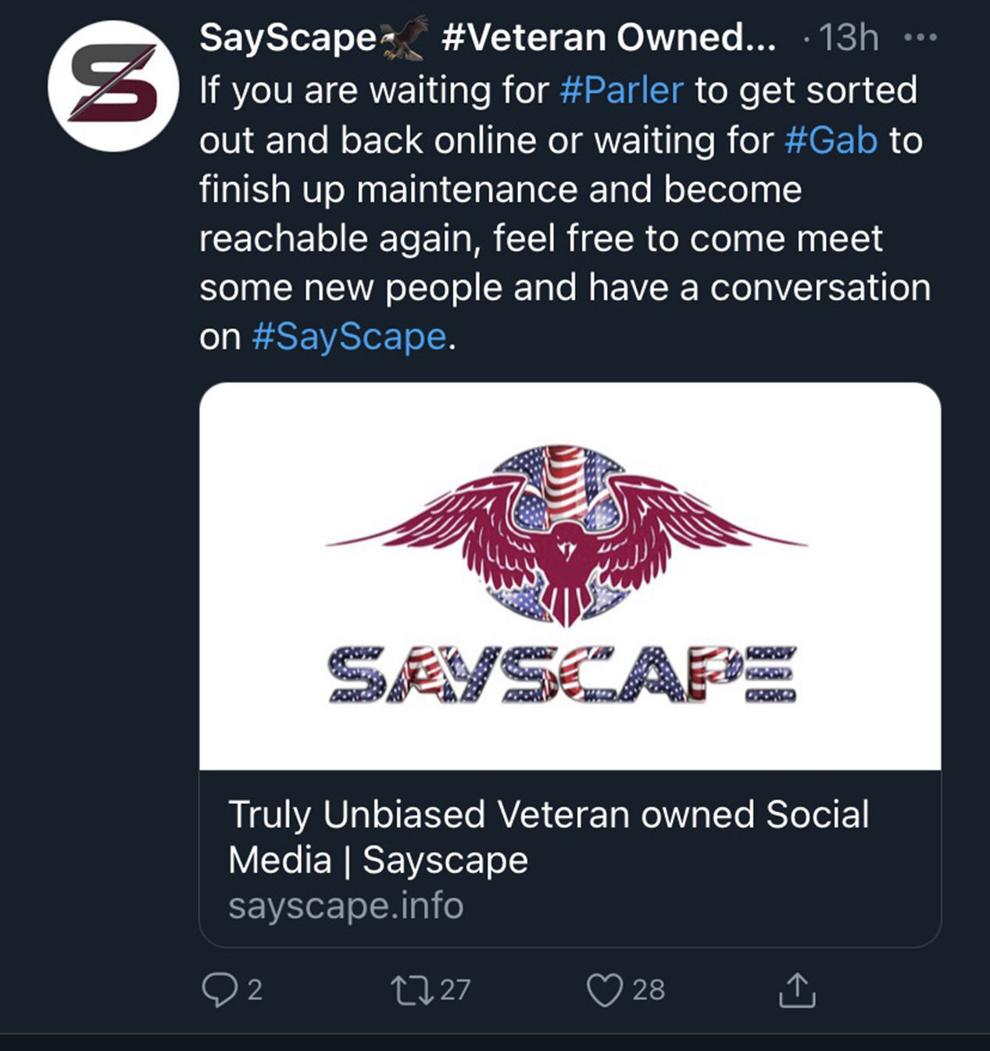 The platform operates similarly to Facebook or Twitter with a newsfeed that can be personalized by following other members in the community. SayScape also has two private feeds that are only for members who have been verified as veterans or first responders using the security software ID.me. All of the posts referenced in this article were posted in the public section of the social media platform and required a SayScape account, but no ID.me verification, to view.
Mr. Santos and Mr. Wade said they have never banned a user for violating SayScape's policies related to threats of violence and were unaware of any violent content on their platform. The platform's policies prohibit "threatening physical harm directly or indirectly to another person," "inciting violence on another person(s)" and "attempting to create or propagate terrorist ideals and/or organizations."
"I mean this completely wholeheartedly: We have some of the best group of people that I have seen," Mr. Wade said of the community on SayScape. "I don't think I've seen a time where I've seen anything get hostile. I don't think I've seen a time where anybody hasn't been welcoming, and it doesn't matter which side of the fence you are on in terms of anything."
Mr. Santos said, "We do actively scan [for content that violates SayScape's policies], and we have a very robust reporting system as well."
Nonetheless, posts such as "Time to build the Gallows," which received 15 "likes" and was featured prominently SayScape's "trending" section after it was posted on Monday by a popular user with 175 followers, went unchecked.
"Locked, loaded & ready! Pull the lever," another user replied in the comments of the "Gallows" post on Monday, garnering another five likes.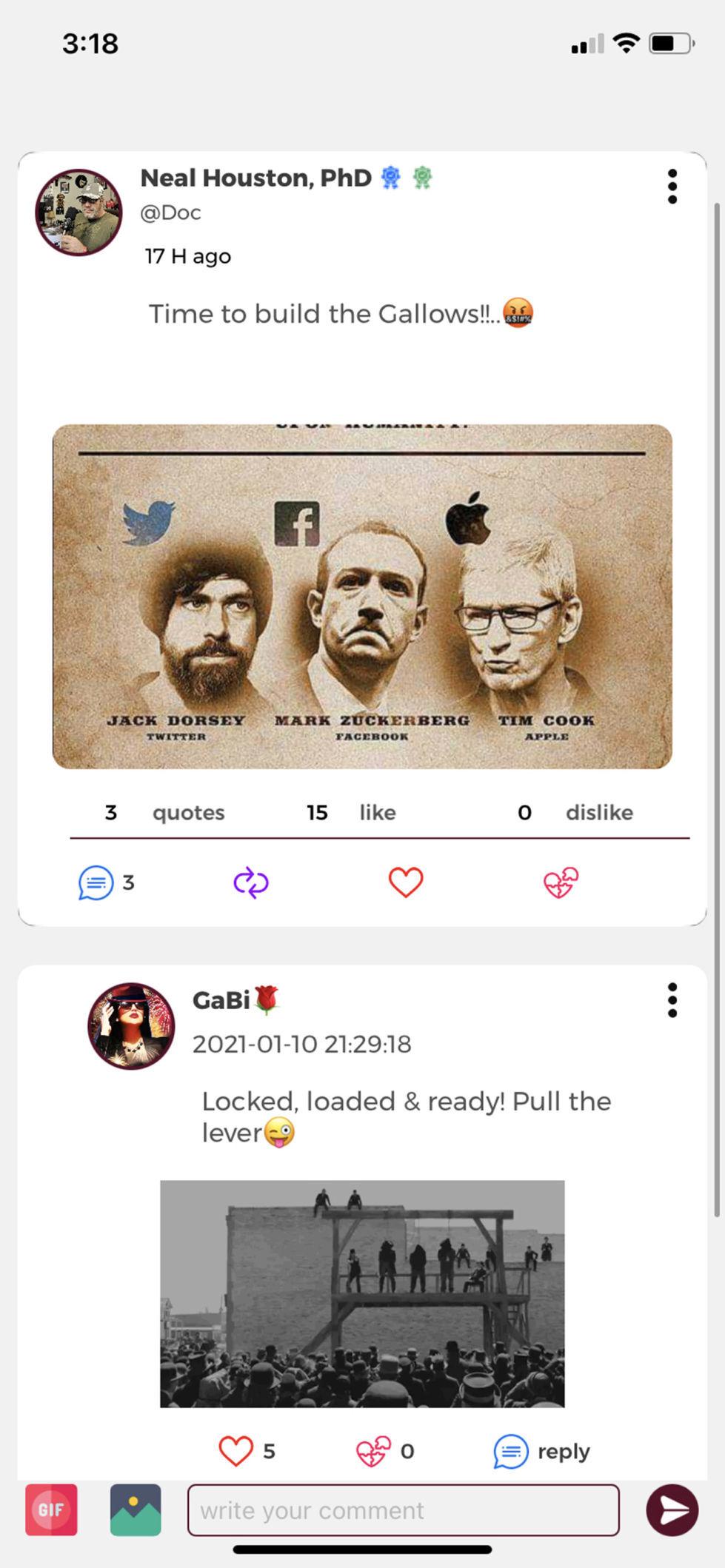 Elsewhere on SayScape on Monday, a user by the name of "LiberalsRtraitors" responded to a post about armed protests being planned in all 50 state capitols in the days leading up to Mr. Biden's inauguration.
"Who the hell would do this? maybe antifa and blm posing as patriots?" LiberalsRtraitors wrote, in apparent reference to the Black Lives Matter and the anti-fascist movement. "Can we just go to war now so I can kill them?"
Also on Monday, a user posted "We are in a CIVIL WAR that won't be very civil" in response to a post that described companies that have responded to the violence in the US Capitol by attempting to deplatform conspiracy theorists and extremists as "discriminating against conservatives."
After being pointed to multiple posts that would seem to violate SayScape's policies on threats and violence, Mr. Santos said, "We have to do a better job of moderating and upholding our own terms."
"We are a small company—that is not an excuse," he said. "We are a small company that has a learning curve; we are learning along with everybody else."
The SayScape creators defended some of the language on their platform as being heated and angry but not meaning to incite violence.
"Sometimes you have to take a step back and say, 'Hey, did they hurt your feelings, or do you really feel like they're going to'—you know what I mean?" Mr. Wade said, before adding, "Put it on the record that I will find this stuff and take it off [SayScape]."
Mr. Santos and Mr. Wade said they founded SayScape as an alternative to social media giants such as Twitter and Facebook. Major social media platforms, they said, regularly engage in censorship and scrape users' data to turn a profit.
"A lot of people look at it like just conservatives are being censored, or just one political ideology or religion or whatever," Mr. Santos said. "It really is just a business model that all these big social media companies do and they make a lot of money doing."
Both Mr. Santos and Mr. Wade are Air Force veterans. Mr. Santos served for 20 years as an F-15 avionics mechanic and IT specialist. Mr. Wade has more than 10 years of experience as a cyber-transport specialist in the Air Force and is still active in the Massachusetts National Guard.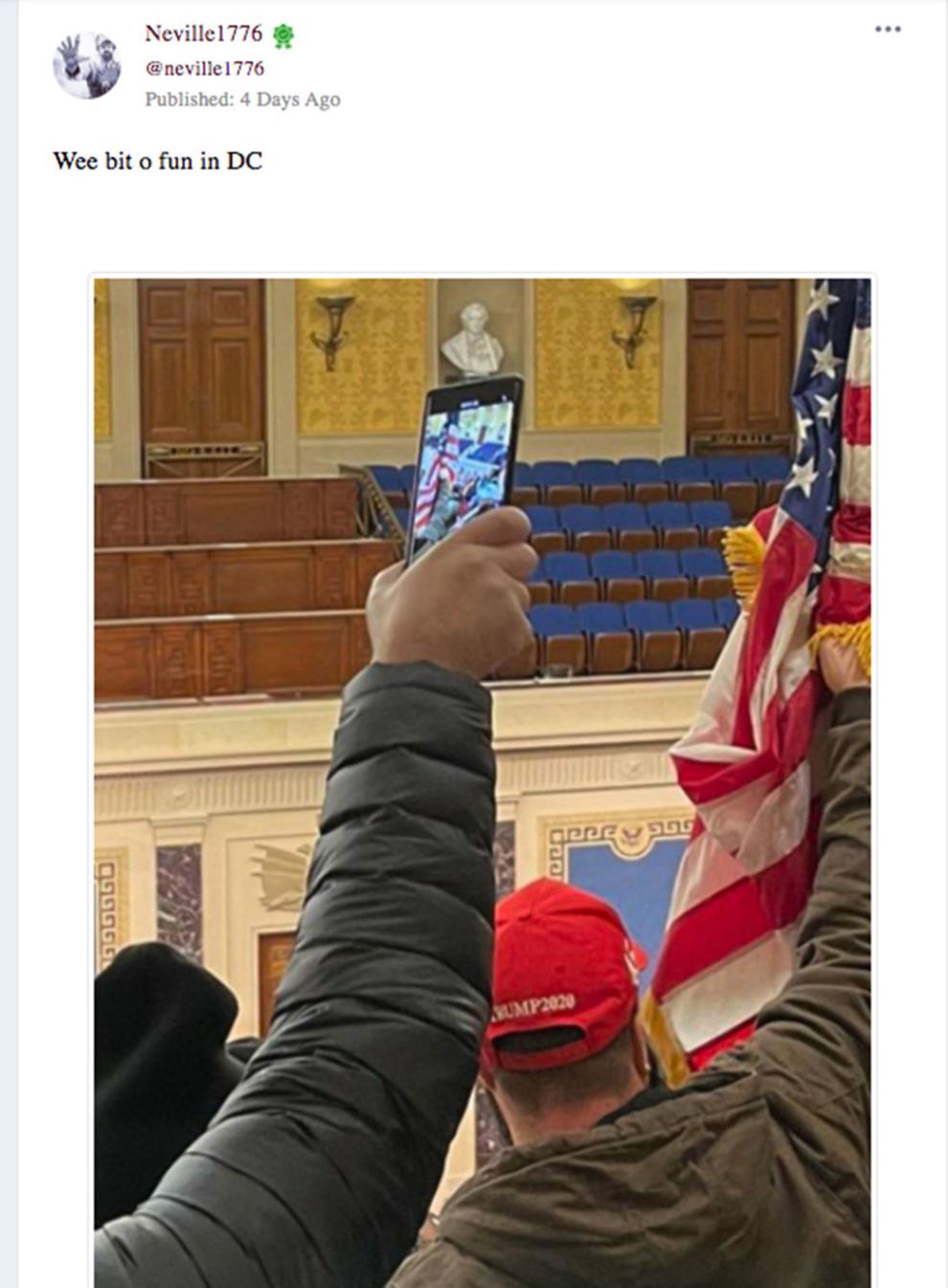 While SayScape is not exclusively for veterans, Mr. Santos and Mr. Wade said they created it with the needs of veterans in mind.
"We've seen a need to try to help those with PTSD, or not even just PTSD, but people that want that camaraderie and are missing that," Mr. Santos said. "You can't get that on the big social media platforms because again with [the] suppression."
On Twitter in recent days, SayScape has courted former users of Parler. Parler, a self-proclaimed "free speech" social media platform popular with Trump supporters, was taken offline by Amazon Web Services on Sunday, reportedly due to a failure to moderate "violent content."
"If you are waiting for #Parler to get sorted out and back online or waiting for #Gab to finish up maintenance and become reachable again, feel free to come meet some new people and have a conversation on #SayScape," SayScape's Twitter account tweeted on Sunday.
Gab, another social media platform, wrote on Twitter on Saturday that it was gaining more than 10,000 users an hour after Apple and Google removed Parler from app stores. The influx of users caused temporary outages and slowdowns on Gab.
"When these services go down, we feel we have an obligation to let people know we're still up; if you want a place to communicate, you can communicate," Mr. Santos said. He also tried to distance SayScape from companies like Parler and Gab.
"Even though there are similarities in some of the things, we're different companies," he said. "We have different management; we have different visions."
For months, SayScape has been a haven for users banned by major social media companies.
"Twitter suspended me permanently for suggesting Biden be Horse Whipped and Keel hauled," a user by the name Tweeterror wrote in December. "What's the big deal?"
In the runup to the riots that interrupted a joint session of the US Congress convened to certify Mr. Biden's electoral college win, users like Tweeterror posted inflammatory content on SayScape.
"I'm sick of pretending this is some legal trick we have to pull off. These people must be dealt with in no uncertain terms so they never try it again," Tweeterror wrote in a December post. "I want heads."
On January 5, Neville1776, a popular user with 137 followers, posted a photo taken from behind the wheel of a vehicle with the text "Headed to DC."
On the day of the riots, the user Mad Rebel posted a photo of Abraham Lincoln holding an assault weapon.
"Thank God for Trump Supporters in Wash DC!! It's way past time!!" Mad Rebel wrote. "Shits about to get Real!"
On the day after the riots, Neville1776 posted photos of the previous day's events including a photo that appeared to have been taken inside the Capitol building.
"Wee bit o fun in DC," he wrote.