Escorted by kayakers, paddleboarders and pontoon boats, a group of swimmers swam across Mashpee/Wakeby Pond on Sunday, September 12, to raise awareness for degrading water quality.
As the morning sun rose over the pond, the scent of burning sage wafted through a crowd of about 20 people gathered at Attaquin Beach in Mashpee for a smudging prayer shared by members of the Mashpee Wampanoag Tribe before the swim.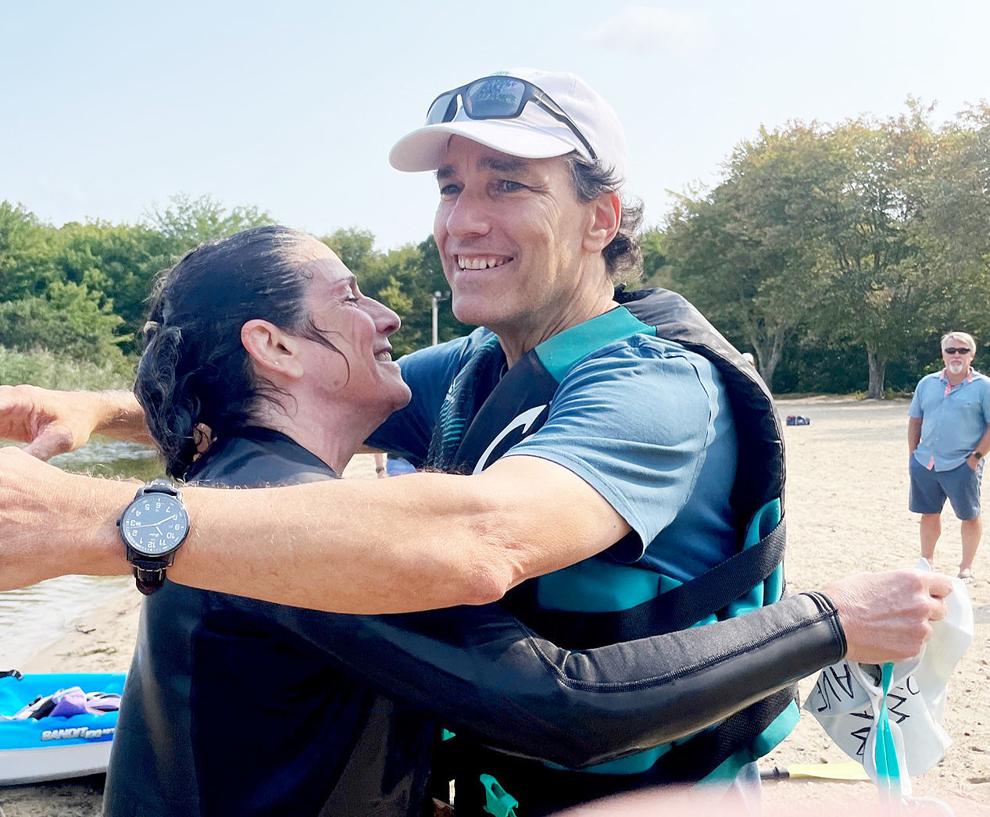 "Our hearts are broken with what is happening to the pond and to the water in general on Cape," Mashpee resident Susan Dangel said. She noted that the word "Mashpee" originates from the Wampanoag language and translates roughly to "place of great waters."
The Save Mashpee Wakeby Pond Alliance—the group that hosted the swim—was founded earlier this summer in the aftermath of a toxic bloom of cyanobacteria in late June that closed the pond to swimming for several weeks.
Also known as blue-green algae, cyanobacteria are microorganisms that can produce harmful toxins. While natural at low levels, warming water temperatures and high amounts of nutrients from human sources such as septic systems can create ideal conditions for cyanobacteria to grow out of control.
Ms. Dangel, who has lived along Mashpee/Wakeby Pond for almost 30 years, said that after the cyanobacteria bloom earlier this summer, "there were dead catfish everywhere."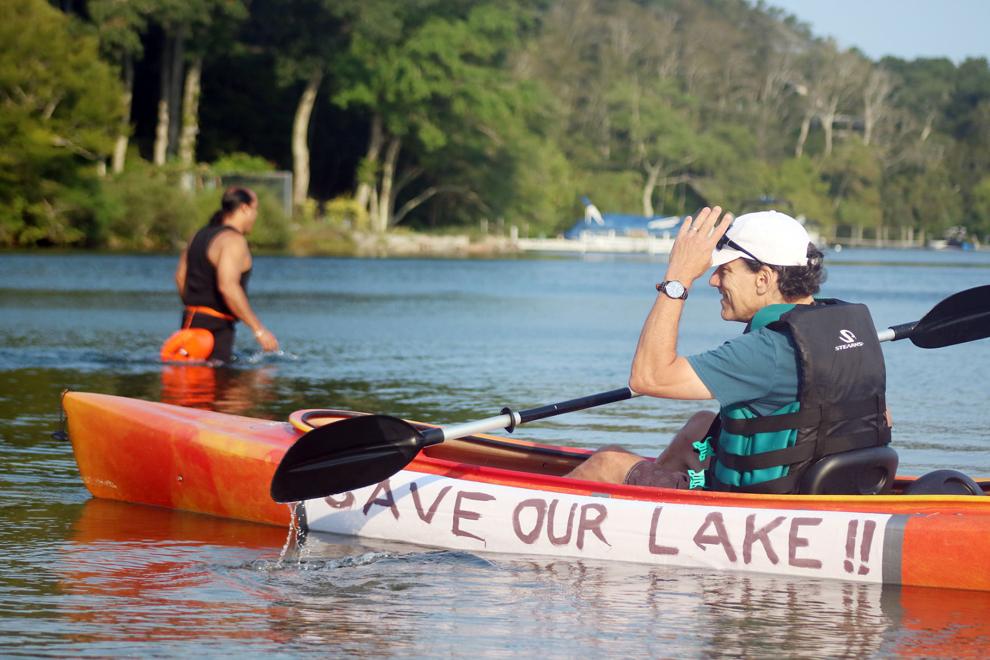 "We really haven't seen fish bellying up, so that was a big 'what's going on?'" she said.
About 30 residents turned out to the first meeting of the pond alliance, which has focused on education and awareness about nutrient pollution, Ms. Dangel said. Earlier this summer, alliance members canvassed neighborhoods near the pond, distributing door hangers with information on how residents can help protect the pond by limiting fertilizer use.
Sandwich resident Karen McGrath noted that sewer projects progressing in both Mashpee and Sandwich remain the main solution to reduce the nutrient loading from septic systems, which are a primary source of the pollution in the region's ponds and bays.
"The first step is to make other people aware that this is going on," Ms. McGrath said. "These are things that happened 60 years ago that are impacting us now, so the things we do now are going to impact the next generation."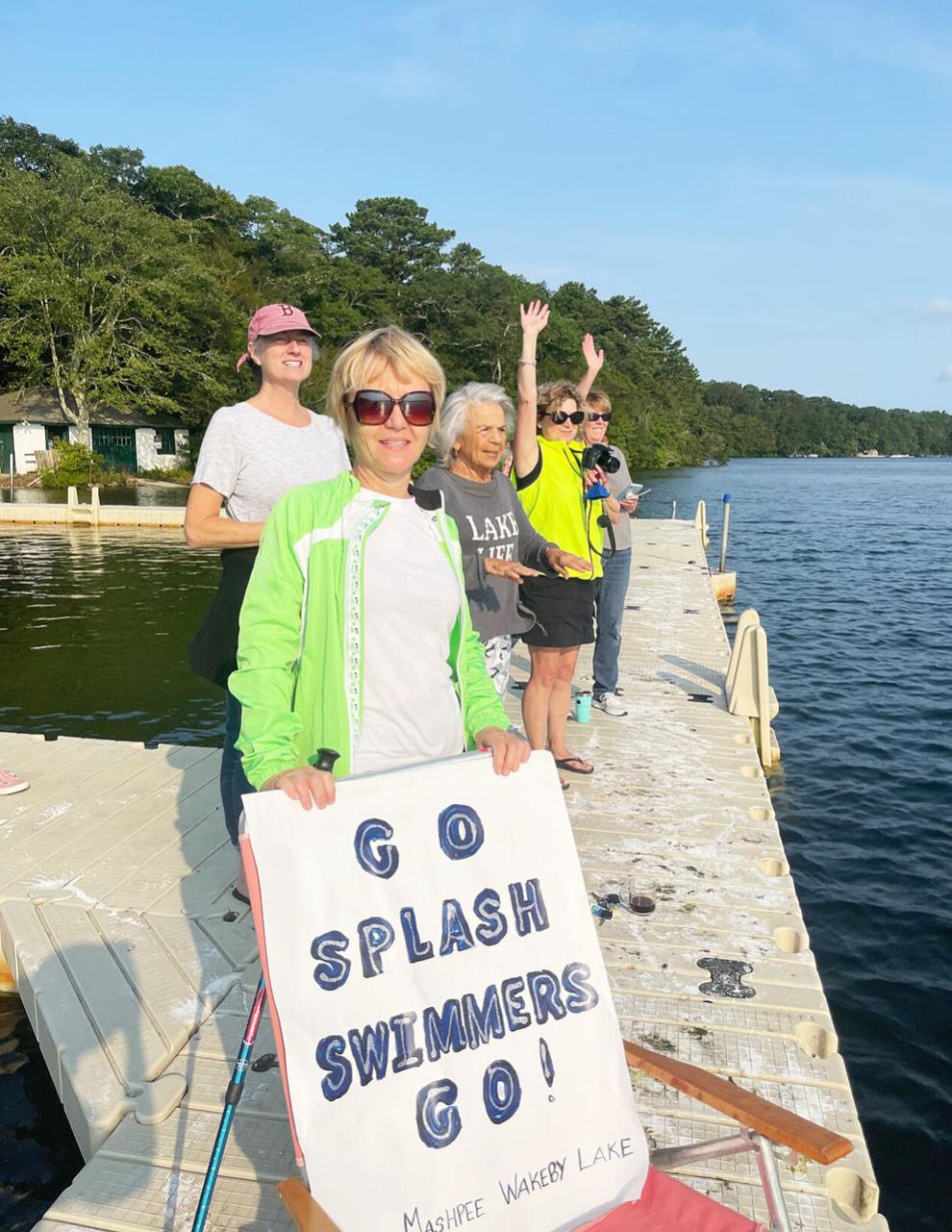 The Save Mashpee Wakeby Pond Alliance aims to keep residents of both Mashpee and Falmouth aware of what is happening in each town while also working in collaboration with other water quality groups, she said.
Mashpee resident Jayne Singer, the alliance member who first proposed the swim around the circumference of Mashpee/Wakeby Pond, said, "It is unacceptable for a beautiful body of water that is meaningful to not just visitors but to a precious culture and people to die."
"It is succumbing to human use," Ms. Singer said. "We need to do whatever it is that we can do—and that includes individuals, it includes families, it includes community and it includes local government intervention—to ensure that every step that can be taken is taken."
For David W. Weeden, a Mashpee selectman and a member of the Mashpee Wampanoag Tribal Council, the swim across Mashpee/Wakeby Pond was both a cultural rite of passage as well as a moment to reflect on decades of pollution.
"Culturally, I spoke with my mom and my elders, and they all used to swim this lake as a coming-of-age ceremony; you weren't really an adult until you did that," Mr. Weeden said, describing the region's waters as "our most precious resources."
"The tribe is concerned," he said. "We've relied on this body of water and all of the watersheds that are in Mashpee and around Mashpee; they've sustained us for thousands of years, and now, in roughly 400 years, they're getting to the point where they're not producing the life they used to."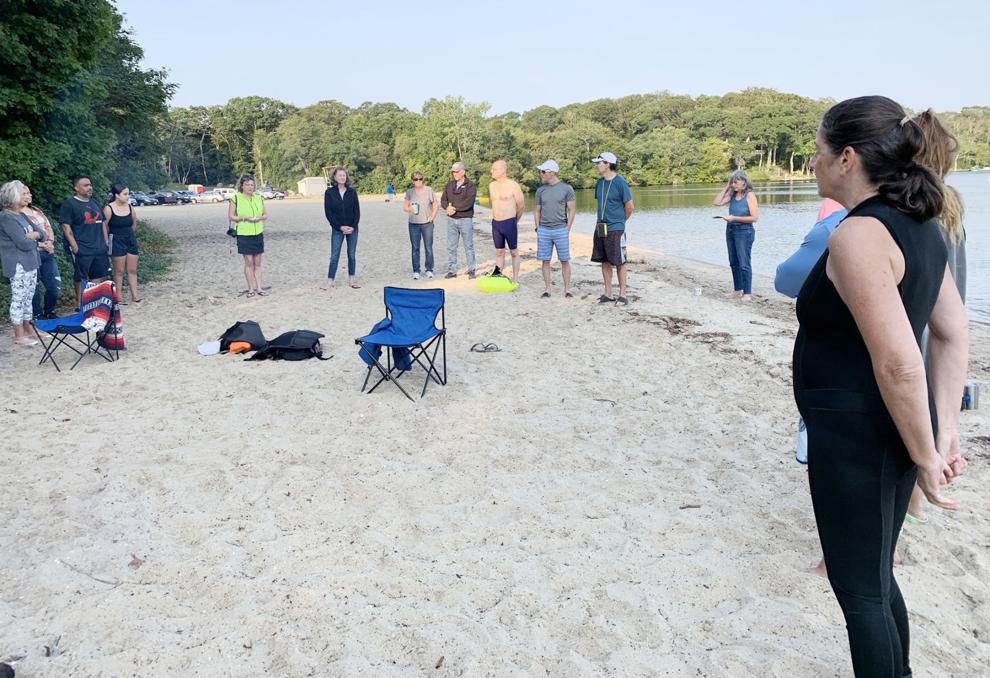 Mr. Weeden said that fish from the ponds have high mercury levels, making them unsafe to eat, and largemouth bass have been known to grow tumors. Moreover, the scientists who study the water quality in Mashpee told the selectmen earlier this summer that water pollution in the town's bays has never been worse, he said.
"It speaks to the larger issue of development," Mr. Weeden said. "The environment is screaming to us it can't handle it."
Meredith Harris, a Mashpee resident who has lived along the pond for almost 75 years, said that until this year, there had never been a situation when she could not swim in the pond due to cyanobacteria.
"It broke my heart to know my lake is poisoned," Ms. Harris said. "The thought that I could not go in the water and would not go in the water made me sad."
Over the past 10 to 20 years, Ms. Harris—who is a triathlete and swims in the pond regularly—said she has seen "major changes" in Mashpee/Wakeby Pond, including the water turning greener.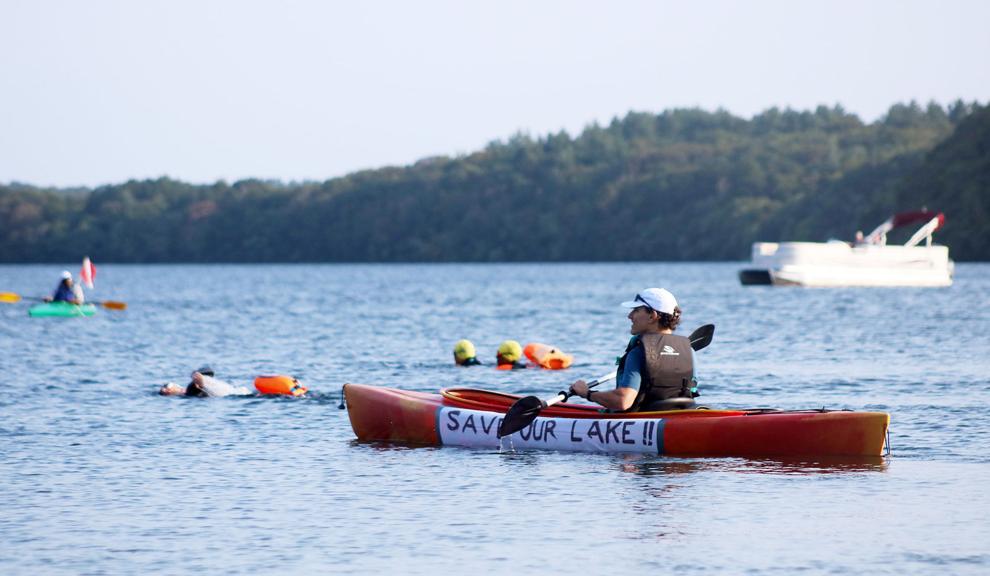 She said the smudging prayer before the swim gave her the energy to complete the almost three-mile swim from Attaquin Beach to Ryder Conservation Area in Sandwich despite 20-mile-per-hour winds on the Wakeby side of the pond.
As each of the swimmers swam, they offered "prayers of healing with each stroke," Ms. Harris said. Her digital watch, which is designed for triathletes, logged 3,576 strokes, she said.
In total, six swimmers swam the circumference of the pond from Attaquin Beach to the Ryder Conservation Lands: Ms. Harris, Mr. Weeden, Ms. Singer, Marjorie Bloom, Herb Rice and Chris Dangel.
As the swimmers swam guided by boaters, other residents cheered them on from their docks. The event concluded with a picnic at the Ryder Conservation Area.