I stared at a blank screen trying to figure out how I was going to write about Chris Rendigs, better known around these parts as Coach Diggs.
I was going to say something like, "Chris lost his battle with cancer over Memorial Day weekend." Then I got to thinking about it. Chris didn't lose at anything. There were setbacks, for sure, but Coach Diggs was a winner, through and through. Cancer took him away, but he won for so long against it. The clock ran out, but that guy had won.
"That guy was Mashpee football," MHS head coach, and friend, Matt Triveri said.
Born in Falmouth, raised in Mashpee. Chris was a member of the first Mashpee High senior class. He played football for the Falcons. He played in college, went on to coach where he played and helped them win four Super Bowl championships. He lived life loudly, proudly and vigorously. Then, he settled down with the love of his life. They got pregnant and shortly after that things began to unravel. Chris got sick with a very rare form of cancer. If there was something worth trying, it was tried. A cure wasn't found, but Chris didn't give up. He fought the cancer, not only physically, but emotionally. He fought it spiritually. It won on the physical front, but that was it.
Chris wasn't supposed to see the birth of his son, Knox.
He did, and he lived to see his 1st birthday, too. Take that, cancer.
He wasn't supposed to travel anymore. He went on a beautiful vacation with his wife, Kailyn, just a few weeks ago, basking in the sun one last time. Take that, cancer.
He made it to birthday number 40. On 40 and a day his body submitted. His spirit refused, though.
Having Chris no longer in the world leaves a huge hole for so many. His family will miss him forever. Knox won't get to hug his dad, but the stories he will hear about his dad will be legendary. Knox will have more uncles than he can count. Every player that Coach Diggs ever coached, especially his linemen, will have tales to weave about how much the man meant to them. Knox will see his dad as larger than life, and in a lot of ways he was.
"As long as that kid lives, he's going to be hearing about his dad, that's for sure. There are a lot guys that are going to have a lot of stories for him, and you can bet that when he comes to Mashpee High School's athletic wing he'll know about his dad. Everyone in Mashpee will know about Chris," Triveri said.
Personally, I worried about the guy's blood pressure during games. I have the privilege of walking the Mashpee sidelines to take pictures during home games. On a staff full of very intense individuals, Chris was the most fired-up. Sometimes he yelled, sometimes he scolded, but he always loved the kids he was coaching. He wanted them to win, so badly. He reveled in every victory, both on the scoreboard and in the trenches. He was a tough guy, who lent that toughness to all of his players.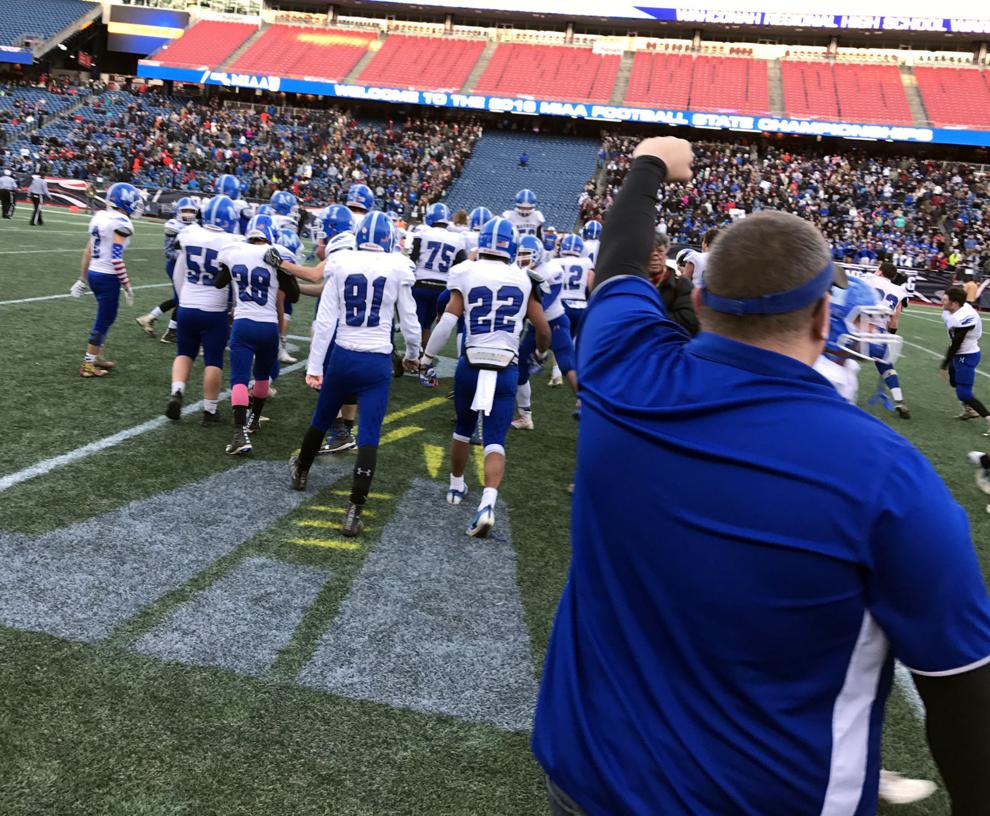 "He made you believe you could get it done," former Falcon and current UMass defensive end Xavier Gonsalves said. "Coach just had so much positive energy."
That positive energy manifested itself in a variety of ways. Former MHS lineman, and current Colgate University standout Ben Bohnenberger, laughed when recalling what it was like to get psyched up by Coach Diggs before a big game.
"He'd stomp into the locker room and he'd pick out a locker and just cave it in," Bohnenberger said. "He'd tell us (the game) was like killing a pig, and we'd have to pull its heart out. He was so fired up...he was tapped, in the best kind of way."
Mashpee isn't the biggest school. The linemen aren't always the biggest kids, but he made undersized guys believe that they could move anyone and open up holes out of sheer will.
"He had a swagger about him, and he related to the players, and they loved him," Triveri said. "There are so many stories. As a coaching staff, we'd be looking at film, and you want your kids to respect their opponents and we might play up who we're playing. We'd tell them that this guy they're facing could be a problem; he's 6-2 and fast, and we probably added two inches and 20 or 30 pounds to him to make a point. We'd go around the room and the coaches would tell the kids what to expect, and then we'd get to Chris, and he'd just say, 'These guys suck, we're going to kill them.' He'd crack the room up. He had that swagger about him."
In Loving Memory: Christopher "Diggs" J. Rendigs, 40, a man of strength, leadership, and bravery, passed away May 29, 2021, at home surrounded…
Not only did coach Rendigs overflow with swag, but he also was voluminous in generosity. Nearly everyone I talked to about the coach used the phrase, "would give you the shirt off of his back."
It wasn't just his wardrobe he was willing to part with. He'd open up his wallet if the occasion called for it, and beating Abington on the road for the first time ever a few years back was that type of time.
"He bought the whole team McDonald's," Triveri said. "I don't know how much he spent, but it was 50 or 60 people. It was a few hundred bucks, at least."
Being one of the hungry young men who feasted, first on the Green Wave and then on fast food, Gonsalves remembered it well.
"He called ahead and told them we were coming and that we needed all of their McDoubles, like 100 McDoubles. They thought he was kidding, but he wasn't," Gonsalves said with a laugh. "He paid for everyone."
That gift of giving will live on. Triveri said he was surprised to see in Rendigs's obituary that gifts in lieu of flowers should be made to the Mashpee Touchdown Club, the boosters for the Falcons' football team.
"Here is this guy, who just had a baby, has a family, and he's thinking about his football family at the end. If it was me, I think I'd have other things on my mind, but he loved Mashpee football so much," Triveri said. "He just bled blue and white."
About three seasons ago Mashpee lost a game to Abington. It was a big game. There were some bad calls that made the difference, and I had posted video of it on Twitter. Chris was not happy about the call. Remember, this is a guy that would kick in a locker when he was happy before a game. Losing did not sit well with him.
Late that night my computer "pinged," with a message. It was Coach Diggs. He was brooding about the call, and we spent the next hour or so going back and forth about the absurdity of the officials, how much it cost the team and how much it ticked him off. He took it personally, and he hated losing to Abington more than anything. Coach Diggs was so invested.
"He cared so much," Gonsalves said. "He took his niece to a daughter-daddy dance, and I was there with my little sister and we just ended up in the corner, talking. We talked about football, but we also talked about life. He was a really good person to talk to."
"He was a mentor to a lot of the guys. His toughness, resilience and having a good heart. He wouldn't put up with any crap, but he'd pull you aside and ask how you were doing, how your family was. He just cared about us all so much," he said. "I was out with a friend the other night, and we were talking about Coach Diggs, and he said 'the reason I'm not soft is because of Coach Diggs.' He helped make us men."
Bohnenberger said he and his former teammates were regularly in touch with coach Rendigs over the past few months, texting him to check in and see how he was doing. Their last exchange was the day before he passed away.
"We just told him we loved him," Bohnenberger said. "We were trying to go see him, but we couldn't, but we all loved him and he fought like no one else. He could have let go a long time ago, but he never gave up. He fought to the end...he wouldn't quit. That was the type of person that he was. He really practiced what he preached."
This past year Coach Diggs made it to one game—in Abington, of course. He made it through the first half, but had to leave in the third quarter. He wanted to stay more than anything in the world, but his body wouldn't let him.
Mashpee had the lead when he left, but the Falcons did not hold on to win that night. They lost a heartbreaker, 25-24.
Losing that game stung, but it was nothing compared to this.
Knox, your dad was a bit of a lunatic, and I loved that about him. He was wore his sunglasses inside sometimes, spoke through a smile and wore his heart on his sleeve. He was quick to offer a handshake or a fist bump and never hid his opinion. If he liked you, and he liked pretty much everyone, then you had a friend by your side. Your dad was awesome. I hope you grow up to be just like him, but maybe wreck a few less lockers.