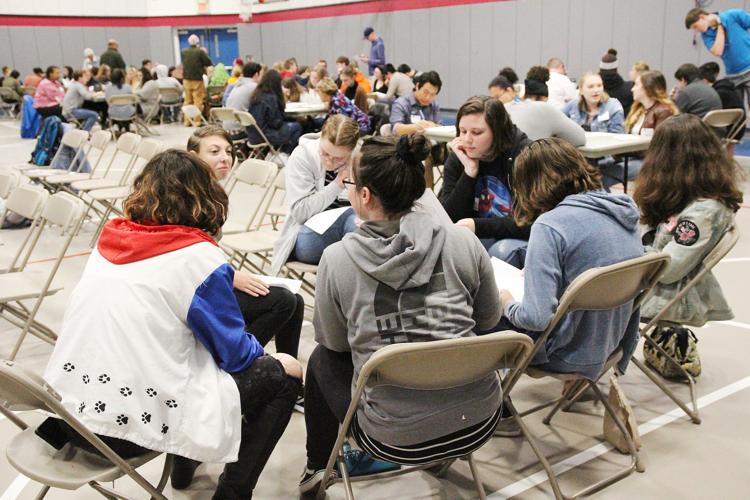 "My students are my leaders; we are proud of the work we have done," Sandwich High School history teacher Nate Everett said.
He sat with four students from the school's civic action team at the Barnstable County Human Rights Academy, held at Cape Cod Academy in Osterville last month, October 30.
"It's time to put our bodies on the line. Everything is at stake right now," the Reverend Kate Epperly of Centerville, minister of justice and advocacy for families and children and vice chairwoman of the Human Rights Advisory Commission, told the room full of some 100 middle school and high school students from 10 Cape schools, from the Upper Cape to Provincetown.
"There is a commonality of suffering in this world. You kids have power; there is power in non-violence," educator, author and artist Pamela Chatterton-Purdy told the students after giving a talk on civil rights icons and "lessons for today."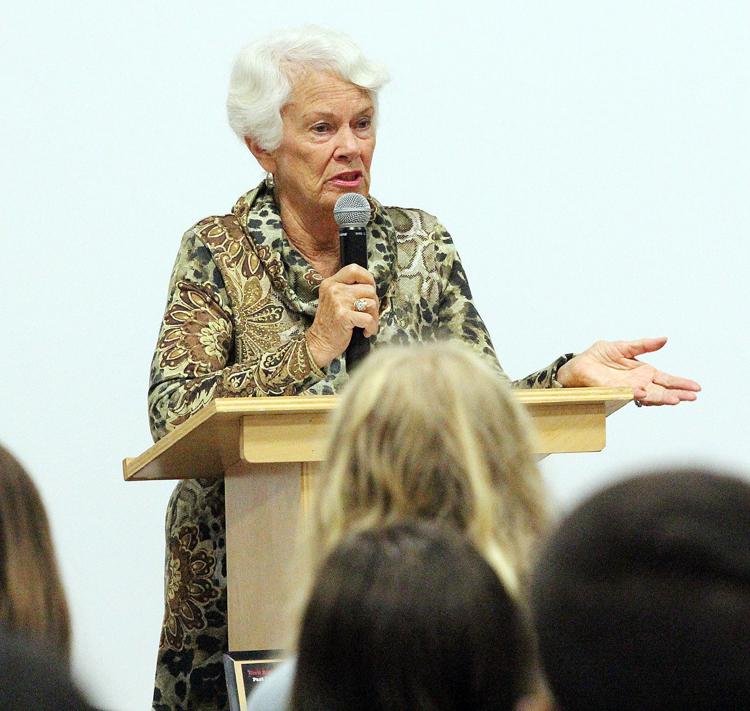 Ms. Chatterton-Purdy cited gun-control advocates, 18-year-old Emma Gonzalez and 19-year-old David Hogg—survivors of the Stoneman Douglas High School shooting in 2018 and co-founders of the advocacy group "Never Again"—and 16-year-old Swedish environmental activist Greta Thunberg as examples of young people who have worked to alleviate suffering in the world.
At the sign-in table in the lobby outside the lower gymnasium at Cape Cod Academy was a booklet published by Youth for Human Rights International, the youth component of United for Human Rights.
This organization was founded in 2001 to educate youth about human rights. Each page of the booklet lists, in plain language, one of the 30 articles of The Universal Declaration of Human Rights. These include:
Article 3: We all have the right to life, and to live in freedom and safety.
Article 5: Nobody has the right to hurt us or to torture us.
Article 13: We all have the right to go where we want in our own country and to travel as we wish.
Article 19: We all have the right to make up our own minds, to think what we like, to say what we think, and to share our ideas with other people.
Article 25: We all have the right to a good life. Mothers and children, people who are old, unemployed or disabled, and all people have the right to be cared for.
Article 30: No one can take away your human rights.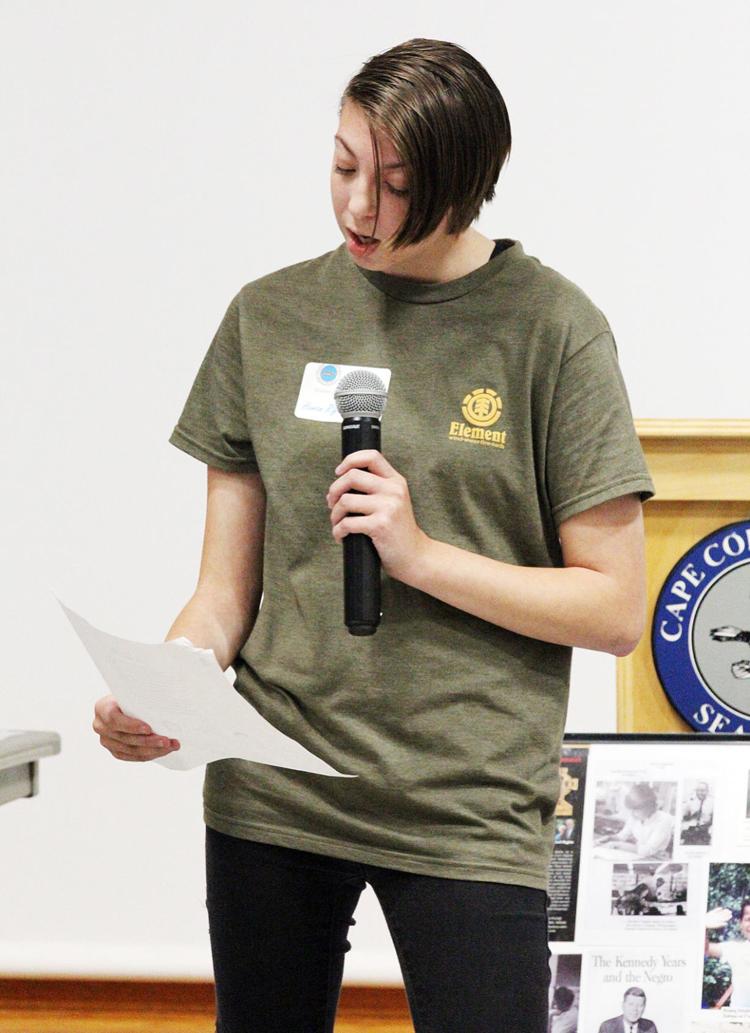 Twice a year, in the fall and in the spring, the Barnstable County Human Rights Advisory Commission sponsors the Human Rights Academy, where students from the Upper Cape to Provincetown come together to meet one another, talk with representatives from human rights and human services organizations, and listen to speakers.
"The most valuable part of the Human Rights Academy is that it creates opportunities for students from different schools to meet each other and exchange ideas and share experiences," Patricia Oshman said.
Ms. Oshman is a member of the Falmouth Affirmative Action Committee—which works closely with the Mashpee Inclusion and Diversity Committee, formerly the Affirmative Action Committee—and she is a member of the Human Rights Advisory Commission.
"It's nice to have a setting among schools that is not based on competition," she said.
"This is my first time here," Mashpee Middle-High School student Jamaya M. Perry said. "I'm a very emotional person; I've been sobbing for 20 minutes," she said after listening to Ms. Chatterton-Purdy's powerful presentation on civil rights icons.
"It's cool to be around others; this is a great thing," Jamaya said of the academy.
"It was a really amazing experience," Falmouth High School senior and member of the school's diversity club, Tenayjah A. Anderson, said after hearing Ms. Chatterton-Purdy's talk. "It opened my eyes to the tragedies that have been swept under the rug in American history, specifically [the tragedies involving] kids."
Cape Cod Academy student Jack McCoy stood and talked about the formation of a local Sunrise group. Sunrise is a movement of young people uniting to stop the climate crisis.
Rabbi David M. Freelund of the Cape Cod Synagogue in Hyannis initiated his remarks to the students by saying that before he came to Cape Cod 15 years ago, he did not think New England was the kind of place where "hate" would be a problem.
"I was surprised to find hate in New England," he said, "and it's gotten worse. Since I've been here, every single synagogue had been defaced. And Jews are hardly alone on the Cape," he said of the groups who have been victims of hateful acts.
Rabbi Freelund is on the steering committee of a group starting a chapter of No Place for Hate in Barnstable and hopes to get students involved.
"Saying 'hate is bad' is not enough. We need a more positive response," he said. "We need to take positive steps to express love and acceptance of one another. There is no one right way to be a Barnstable resident and no one right way to be an American," he said.
During the time allotted for "local student activism," students sat around tables and discussed projects they are working on.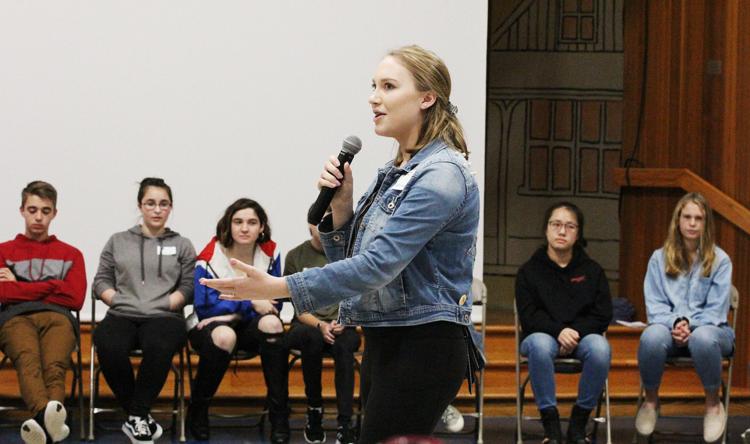 Sandwich High School's civic action team is organizing a "Politalks Club" that will focus on political discussions to break down the barriers and reluctance around talking on political topics, 16-year-old Samantha E. LeBlanc said.
"There is a way to mediate these discussions," Samantha said. "Instead of 'winning,' they would be about the nuances of speaking and understanding," she said. Mock elections and role play would be a part of the club's activities.
"We would like to expand the civic action team," Samantha said. "We want to incorporate it into advocacy."
"We're too young to vote, but we do a lot" 14-year-old Ariana E. Glick said of the civic action team."This is our way of getting our voices heard and getting other people to vote for our future."
The Sandwich High School civic action team is organizing a "student government day," for November 15, following the model used by the State House. The focus will be on 8th grade students, who are currently doing background research in their civics classes.
Guest speakers will talk about the work that politicians do. Work sessions led by high school facilitators will address such topics as climate change and gun control. Afterward, the 8th graders will return to the auditorium to take votes.
Mashpee Middle-High School senior Julia F. Medeiros came to the Cape from Joao Pessoa, Brazil, four years ago and is a member of the school's human rights club.
She is working on an "awareness campaign" with English-as-a-Second-Language students and their families where the mission is twofold: to educate about the challenges local immigrants face in becoming naturalized citizens, and allowing ESL students to share their narratives in the classroom environment, to give them a voice.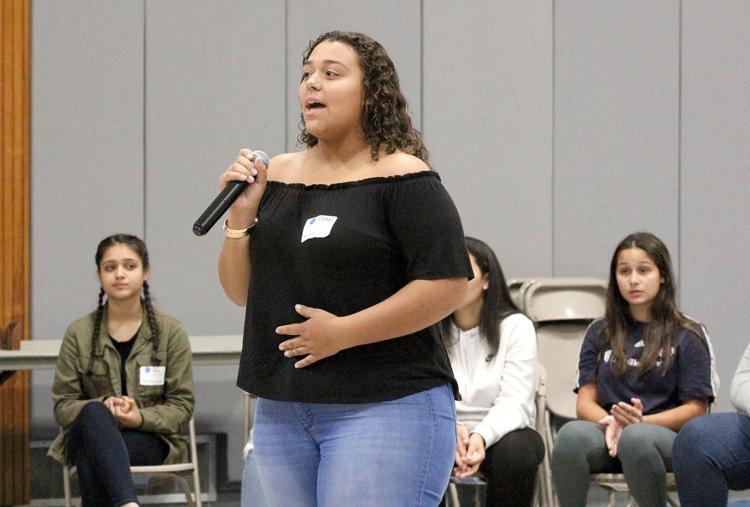 The Mashpee Middle-High School human rights club is also working on "humanitarian mapping" through HOT—Humanitarian OpenStreetMap Team—an international team dedicated to providing map data to vulnerable populations around the world not represented on any map.
"It's like the Wikipedia of maps—ordinary citizens help create maps," history teacher and group co-advisor Celeste A. Reynolds said. "You need an account and the internet and a device like a computer," she said.
President of the Sandwich High Class of 2020 Jacob D. Swenson had been asked to speak. He wasted no time calling the students to action:
"You being here today means you are interested in standing up for what's right. It's time we all started acting like leaders," he began.
Jacob talked about his involvement in last month's climate strike event in Sandwich, for which he was the site coordinator and director, and his work as youth liaison and board member for Sustainable Practices, which initiated the municipal plastic bottle ban that was approved at Sandwich's Town Meeting on Monday, October 28.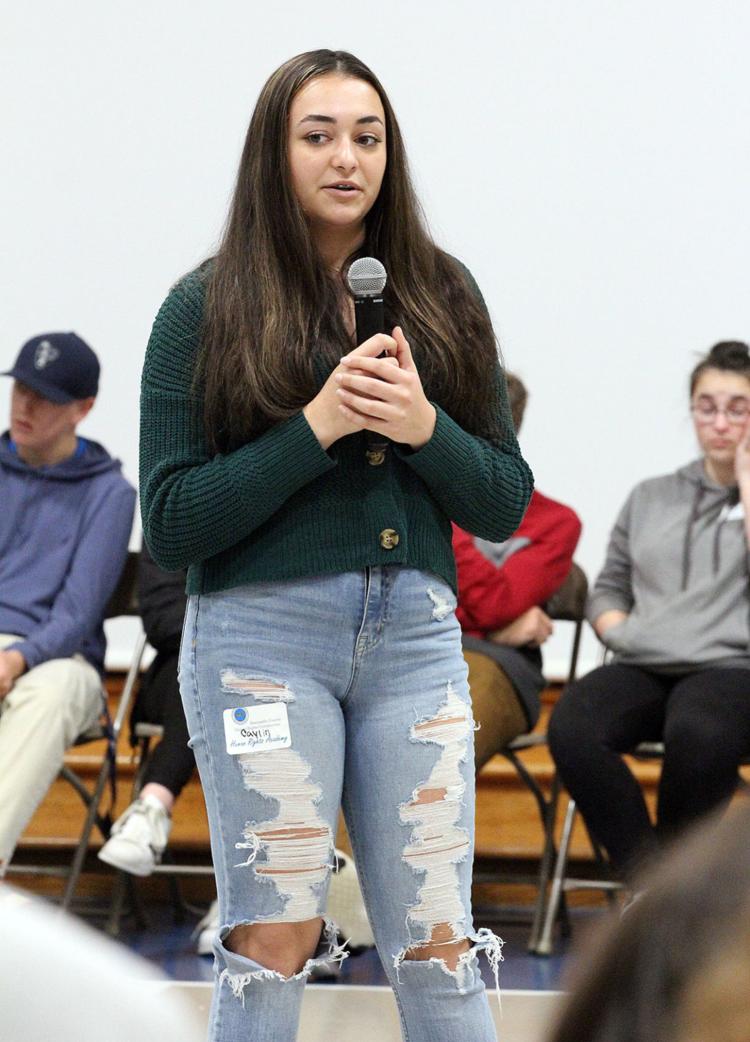 On the broader topic of youth activism, Jacob shared some of the lessons he has learned.
"Use the press," he said. "The media usually likes what we have to say, and it helps legitimize an event. Find local papers where your voices can be heard. Invite reporters to events. Write letters to the editor."
Jacob advised using social media, despite the risk of being the target of negativity, even sometimes from elected officials, as happened to him.
Further, he advised students to find allies in the community—town officials, teachers, sympathetic groups. Reach out, get endorsements, network; once they create a network, he said, use it. He urged his fellow students to be persistent, but be succinct in their communications so people will read their emails. Use the leaders of the community, who are supposed to represent everyone, he said; they will know when someone is coming from a place of good intentions. Set up meetings, send emails.
Lastly, Jacob advised student activists to find their niche in order to maximize skills, and then refine those skills. "Don't burn out," he said. "Don't do something just for your own benefit [such as a good resume]," he said. "Being passionate for change is the most genuine."
Or, as retired Cape Cod Academy teacher Larry W. Brown said to the group of young people, "Don't just study history; make history."
Students were asked to fill out a questionnaire called "What are the Most Urgent Issues Facing Us?" by ranking the issues listed—in "liberal/conservative pairing so as not to influence the choice toward liberal—in order of importance to each individual, with an option to write in "other."
The group then formed a huge circle in the gym and students were invited to take the microphone and tell the others why their first choice felt the most urgent.
One by one, the students stood in the middle of the circle and opened up about the issues that weigh most heavily upon them. They talked about anxiety, genocide, immigration rights and mental health.
The last person to speak was middle schooler Toni-Anne Fraser, one of nine students who had traveled from Provincetown. She talked about racial inequality from a personal perspective, until she started to cry and could no longer speak.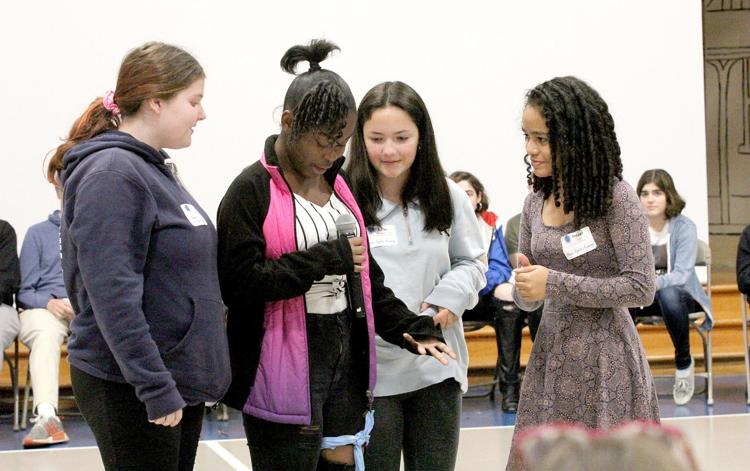 Three of Toni-Anne's friends joined her at the center of the room, huddled close and quietly encouraged her to go on.
"Even if I was purple," she finally said. "It just has to be equal."
"Put your feet on the floor," Ms. Epperly said to the students before closing the circle. "Be sure you can feel your feet on the floor. If you can feel your feet, you're grounded," she said. "Stay grounded. You're at a wonderful place."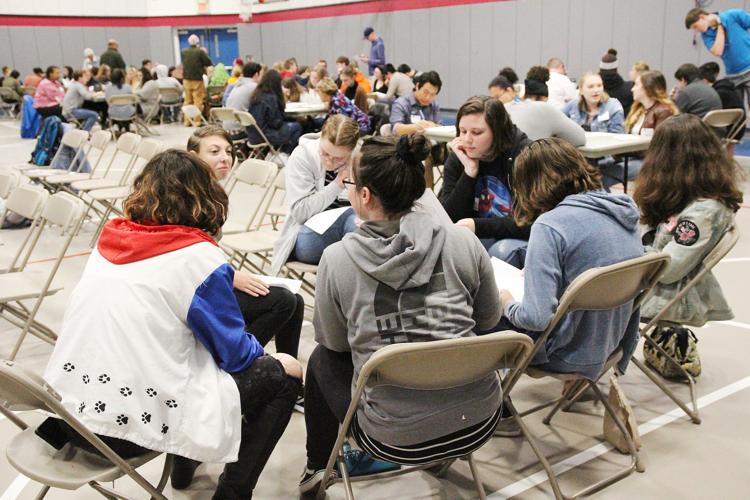 "It's great to see kids be the adults in the room," Ms. Chatterton-Purdy said.
Students participating in the Human Rights Academy will return in the spring, on a date to be announced, to present the projects they have worked on throughout the school year to the public.