Many Cape Cod homes date from the 1950s and '60s. These homes can be difficult to make energy efficient because of the way they were built. Here is a story of one homeowner in town who figured it out and then some.
Perched up on a sunny knoll on Town Neck, Christie's 1960s home was in need of attention. She bought the home in 1996 and enjoyed many summers here with her family.
Recently, she decided to live here full time and wanted to make the home more energy efficient. Never did she realize just how much this investment would actually pay her back. What was her first clue into this? It was a November bill from National Grid for negative $674. They owed her $674.
If you look at the Cape as a whole, the best thing we can do to slow climate change is to make our homes, commercial and municipal buildings as energy efficient as possible. Here, the greatest contributor to carbon dioxide output is our buildings. Luckily, this action will also save us all money as efficient buildings cost less to operate. There are numerous examples of how people are already doing this, towns are taking action and the state is developing programs for just this purpose. Beyond this, making transportation carbon-free is key. Then, it comes down to personal life-style to make a difference. Great strides can and are being made on all these fronts. This column will talk about these topics and it will let you know what you can do to take action.
How did all this happen? First, she called the Cape Light Compact (CLC) for its free energy assessment program to discover how to best seal up her home. CLC follows an elaborate process including looking at every nook and cranny to make a comprehensive list of improvements to make the home energy efficient. This is all free. Then, on top of all that, they offer pay for some 75 percent of the labor and materials needed to do the items on the list.
Honestly, everyone should use this CLC program. It is a free assessment, they pay for 75 percent of the work to be done and it makes a huge difference. Rental property owners get 100 percent refund of their energy-efficient improvements. It is a no-brainer. Find them at www.capelightcompact.org.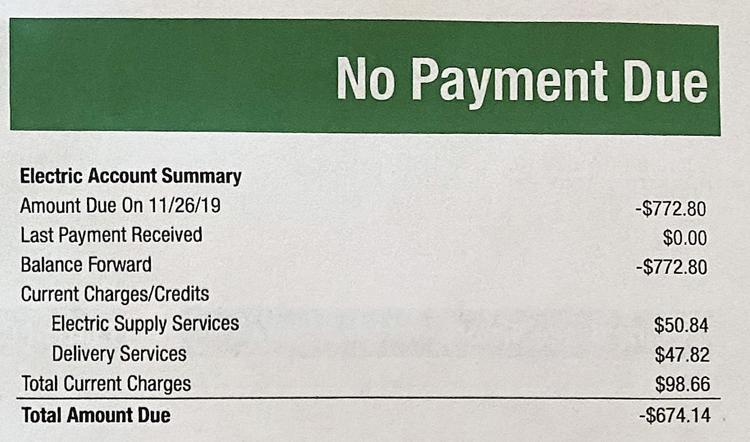 Christie followed all the recommended measures that CLC made. She insulated her basement and some walls, installed new LED light bulbs and sealed her windows. This contributed a great deal to the energy savings she enjoys in her monthly bills.
In addition, because her furnace was on its last legs, she utilized a seven-year no-interest loan and equipment rebate program through CLC to purchase a heat pump. A heat pump both heats and cools a home by taking any ambient heat in the air and moves it to the desired location.
It costs less to move heat than it does to create heat. The newer-style heat pumps are very efficient.
To run the heat pump, she decided to purchase photovoltaic (PV) solar panels. PV panels turn sunlight into electricity. The tax incentives from the state and federal government decreased the cost for her 31 PV panels to under $20,000. The solar panels run the heat pump and produce excess electricity that the utility company pays back to her.
Now, Christie is laughing all the way to the bank. She is earning back money from the utility company as mentioned above and it turns out to be a net positive of about $1,500 a year. Plus, her heating bill was $2,200 annually and it now it is $200 annually for both heating and cooling, a 90 percent drop. That creates a net positive of $3,500 a year. These panels will pay for themselves in just over 5 years.
At that time, she will have free heating and cooling for years to come.
Sometimes people say, "Going green costs more." Not so. The initial investment, plus the on-going operational savings, need to be added together to get the true reading. In virtually every case, if done right, going green either breaks even or makes money.
In the end, the best and first thing you can do save energy and money and to combat climate change is to make your home or rental property more energy efficient. Cape Light Compact is the best way to do this on the Cape.