Town workers and an army of AmeriCorps volunteers this week began cutting through invasive brush and vines choking the life from native species at historic Brady Island conservation area.
Their work marked the beginning of an ambitious plan to uncover the long overgrown walking paths and showcase the 80-year-old green ash and horse chestnut trees that may have been planted by glass factory worker Hugh Brady, his wife, and the 15 children they raised on the property.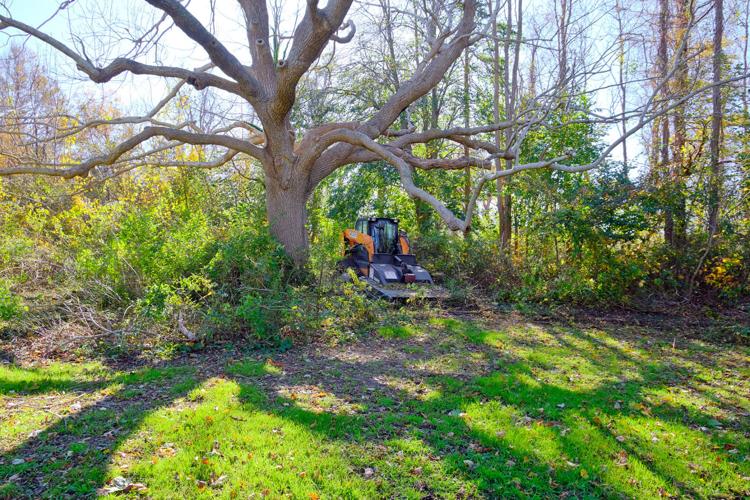 "As always the AmeriCorps members worked very hard," said David J. DeConto, Director of natural resources. "They spent the morning working on the oyster grant, cleaning cages and sorting oysters. They spent the afternoon working on Brady Island removing nuisance vegetation. We couldn't do it without them.
But because the natural resources department only has the volunteers' help for a couple of days this month and next, "the department will be picking away at the nuisance vegetation" on Brady Island, Mr. DeConto said.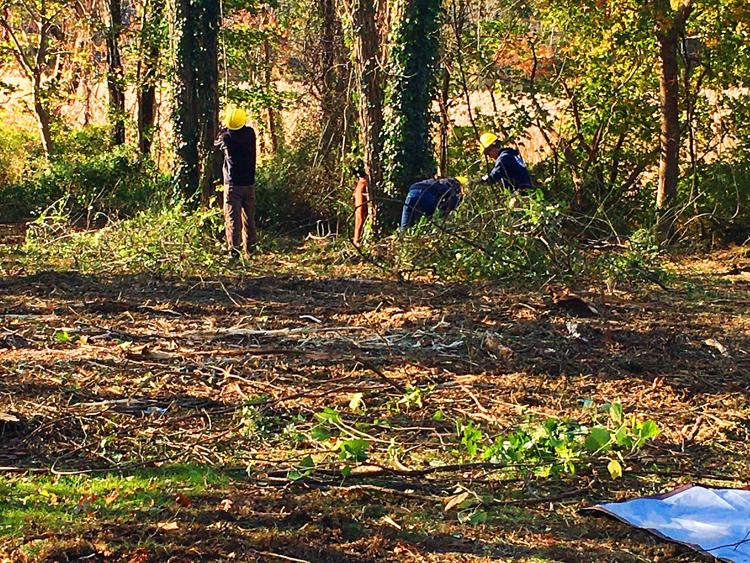 Ultimately, however, the workers will create meadow areas and scenic plantings. They will be following a design envisioned by Susan Balfe, a recent recipient of a landscape and environmental design associates degree from NHTI-Concord's Community College who served as an intern to the Sandwich tree warden.
Ms. Balfe and former Tree Warden Justin O'Connor presented the plan to the conservation commission in February. The commission unanimously approved the idea.
"There are memorial trees there that are hard to walk around," Ms. Balfe told the commissioners after describing the vines and brush choking the native vegetation. "It could be a beautiful place."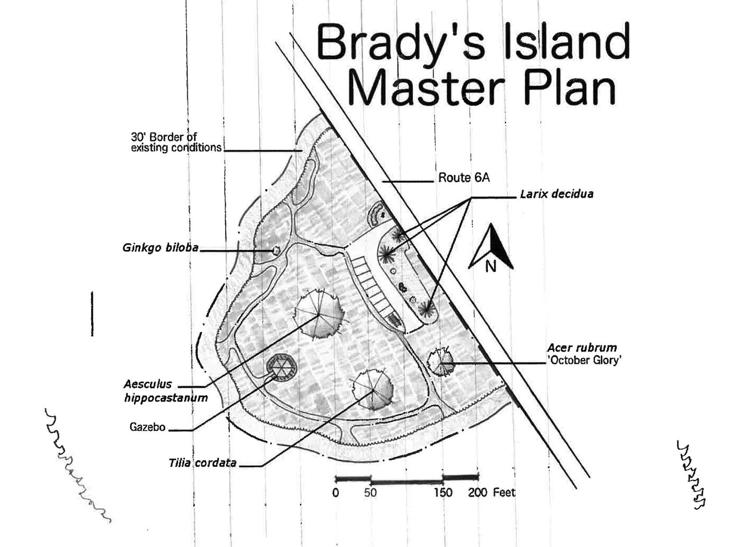 Mr. O'Connor, who left his job last month to pursue a job in the private sector, said at the time that he and members of the parks and public works departments have periodically trimmed vines and cut back the brush, but a more concerted effort was needed.
The property—which is a town park, a historic area, and also considered conservation land—is often called Brady's Island (even its sign bears that name), but its correct name is Brady Island, according to town historian William F. Daley.
The land remained with the Brady family until 1959 and was acquired by the conservation commission in 1967, according to a brief history written by Mr. Daley.
Her preliminary plan for Brady Island included not only cleaning up the parking area and placing an information kiosk there, but identifying heritage trees, and clearing and marking walking trails.
The project dovetails with a townwide effort to make conservation lands more accessible to residents and visitors, Mr. DeConto has said.
Natural resources department staff and volunteers began cleaning up, mapping and demarcating trails in conservation areas last summer.
AmeriCorps is a national program designed to foster civic engagement by improving neighborhoods and parks across the country.