It is almost impossible not to salivate, watching Gregory W. Anderson nosedive into a burger, work to get his mouth around the "meat lover's paradise," the "King Kong," "the mac daddy," or a "monster burger," and come up for air with face and fingers dripping beef and bacon grease, pickle juice, cheese, and sauce.
Next, in what could be a cringe-worthy moment while still chewing, Mr. Anderson looks into the cameras and talks about the experience—the "kick" of the chili sauce; the thickness of the onion rings; the perfection of fried leeks or fried egg stacked atop the burger. At one stop, he is offered a chocolate madness milkshake with which to wash the meal down.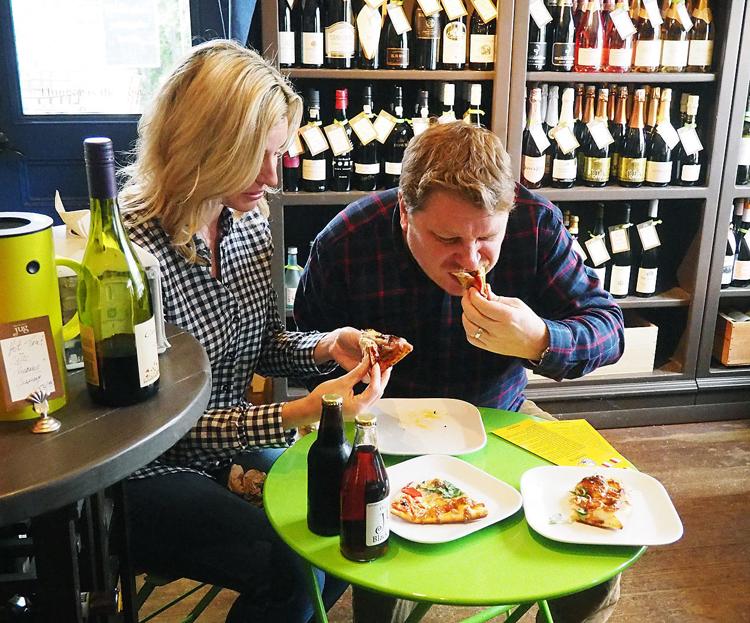 This is a scene from "Greg's Burger Bash," one of a series of Sandwich Community TV food shows recently filmed at Sandwich restaurants, hosted by Mr. Anderson.
The burger bash was preceded by "Greg's Clam Stroll" (which ends with Mr. Anderson standing knee-deep in the sea trying to find clams with his bare hands), and followed by "Greg's Meatsa Pizza (in which the last frame shows Mr. Anderson's head covered in pizza dough after a "pizza toss" gone wrong).
"It is lighthearted, and fun," Mr. Anderson, who has a background in television broadcasting, said.
"We don't take ourselves too seriously."
Sandwich TV's executive director Paula M. Johnson said during a recent interview that she has always wanted to do a food show, because it calls positive attention to the restaurants.
"The food shows celebrate the creative side of the community and of small business owners. Our approach is totally positive and our cameras show the food in a really good light," Ms. Johnson said.
"Food is that universal language," Mr. Anderson said. "We build the food shows around what is here in our backyard and we emphasize how fortunate we are to have fresh ingredients that come from all over New England."
Inspired by the "lobster stroll" show, shot in the summer of 2018 by Sandwich TV's creative director, M. Taiki Magyar, and his friend Robert Ayers, Mr. Anderson's food show series began with the "clam stroll," filmed in the summer of 2019.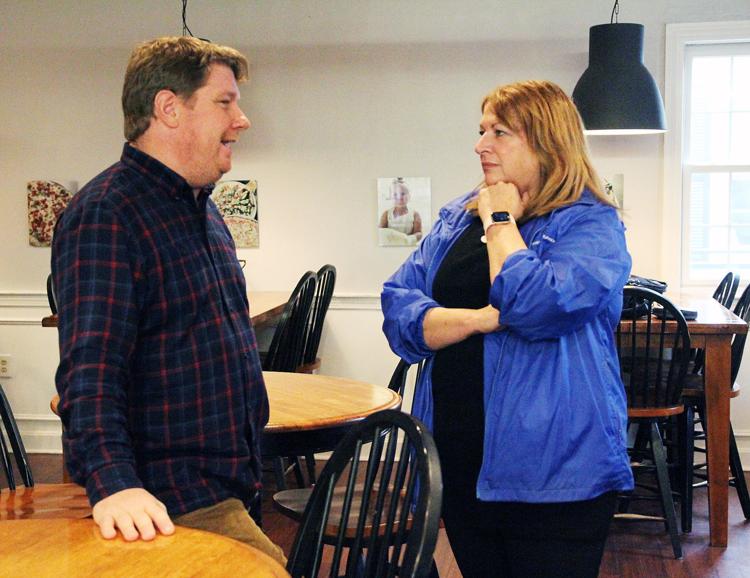 Loyal to the food show's motto, "It's a tough job, but somebody has to do it," Mr. Anderson tackled clam rolls, clam platters, and steamed clams with abandon, regaling viewers with mouth-watering descriptions of "the heartiest, plumpest, clams that filled his mouth with flavor; the perfectly-seasoned batter; the black garlic mayonnaise and homemade tartar sauces, and the grilled butter rolls."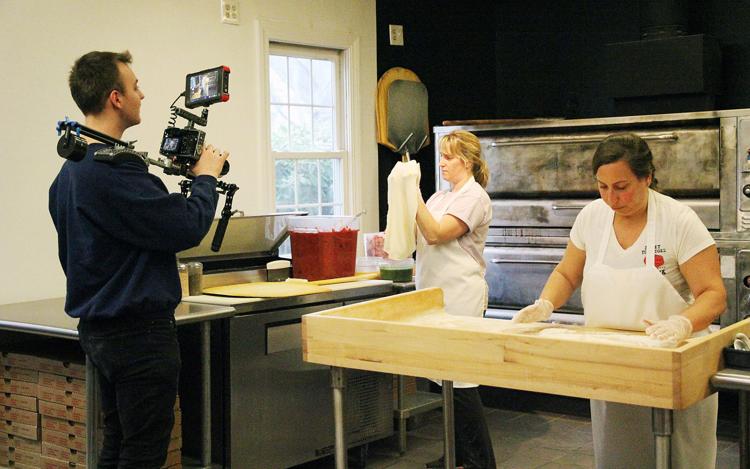 For the pizza show, Mr. Anderson was joined by a guest host, his wife, Jenna E. Anderson, who is a vegetarian.
As this husband and wife are, by their own admission, "diametrically opposed in their eating habits," this has given participating restaurants the chance to present their vegetarian alternatives to the "meatsa pizza," as the couple bantered about the advantages of each.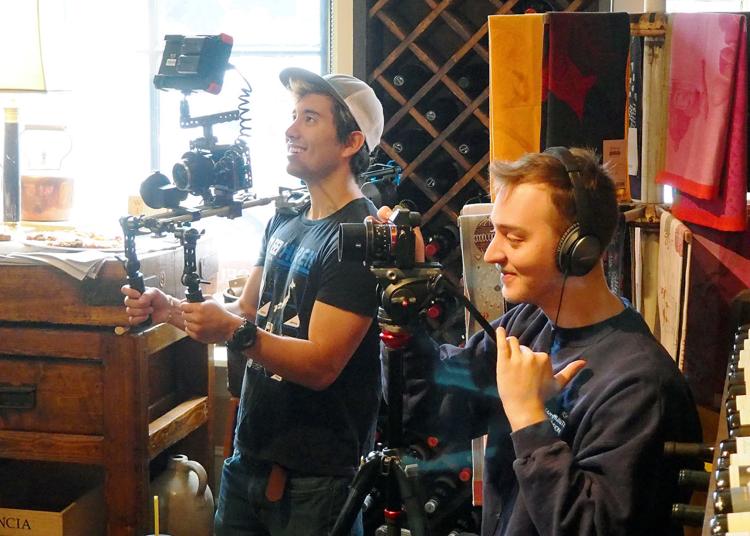 During each show, the restaurant's owners and/or chefs join Mr. Andrews at the table to talk about their philosophy of food, explain how they prepare the dish that has been served, and say where the ingredients come from.
Some of the restaurants featured are third-generation-owned, with recipes passed down from parents and grandparents; some have been in the same location in town for decades.
"These are unique, privately owned restaurants run by local people," Mr. Anderson said of the restaurants featured in the food shows. "It is really stories about people who live here."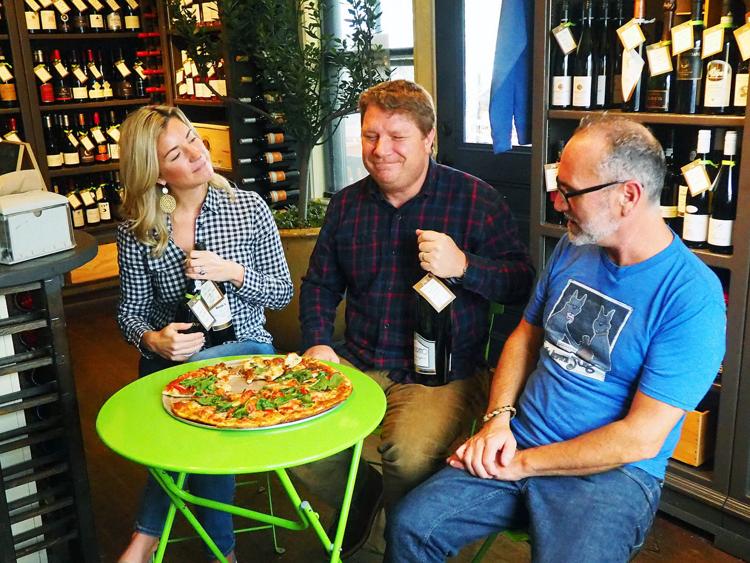 "They get to tell their story," Mr. Anderson said, "And I bring a bit of levity to the conversation."
"The food shows are a great way to spotlight the community, and they give free advertising to the businesses," Ms. Johnson said. "We don't talk about prices; there is no 'call to action'; it's not a contest or a competition and we don't pick a winner, we just show the restaurant's strengths."
Viewers like to see the behind-the-scene shots to see how the food is made, Mr. Anderson said.
The camera crew, Mr. Magyar and video producer Alexander R. Rencurrel oblige, taking their video equipment (with permission) wherever they need to go to get the backstory, including some tight spots such as small galley kitchens filled with hot pizza ovens.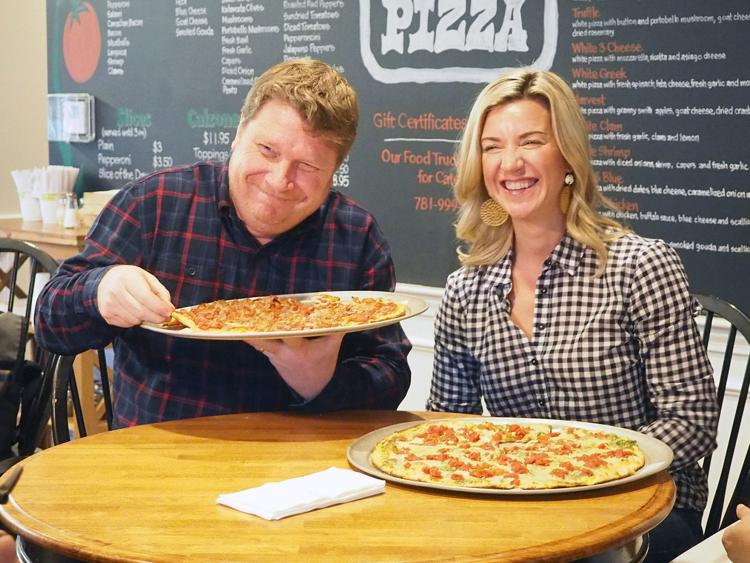 Young and agile, as it happens—Mr. Magyar filmed the first three pizza restaurants on his 29th birthday—this competent, no-nonsense crew can swoop into a restaurant during business hours; film action behind-the-scenes, and staged shots, such as the featured meal spinning slowly on a pedestal; and pack up and get out with hardly a ripple.
Mr. Anderson said he relishes being able to participate in fun, creative, researched, community-focused programs, which are then broadcast in a quality way.
"The quality is so well done at the production end, that my friends in broadcasting are amazed," he said.
"Paula is naturally inquisitive," he said of Ms. Johnson. "That is the essence that is brought forward in all of the station's shows."
Ms. Johnson pointed out that Sandwich Community TV food shows are shown all over the country, via the Alliance for Commercial Media's sharing server.
The shows are also put onto social media and YouTube. "All of the station's equipment is high-definition, so our YouTube videos are high-definition," Ms. Johnson said.
Still potentially to come—as the community TV staff considers a future replete with enticing food show possibilities—are desserts, appetizers, soups, and beers/breweries.
"It's so much fun!" Mr. Anderson said.