Forestdale School 2nd grader Weston Hayes was just 4 years old when he was first introduced to the sport of competitive horseback riding.
He fell in love with it and now, at the ripe old age of 8, Weston is competing all across the country at the national level.
Last month, Weston competed at the Color Breed Congress competition in Tulsa, Oklahoma, where he and his horse, Parker, took part in three categories of competition: Western Pleasure, Showmanship, and Hunter Under Saddle.
Western Pleasure is a style of competition where the horse is expected to maintain a relaxed and slow gait. In this competition, Weston placed seventh out of 10 riders. He said that the horse was sick that day, and did not fare as well as Weston had hoped.
In Showmanship, he came in fourth place. Showmanship asks the rider to walk their horse around the arena in a pattern of maneuvers.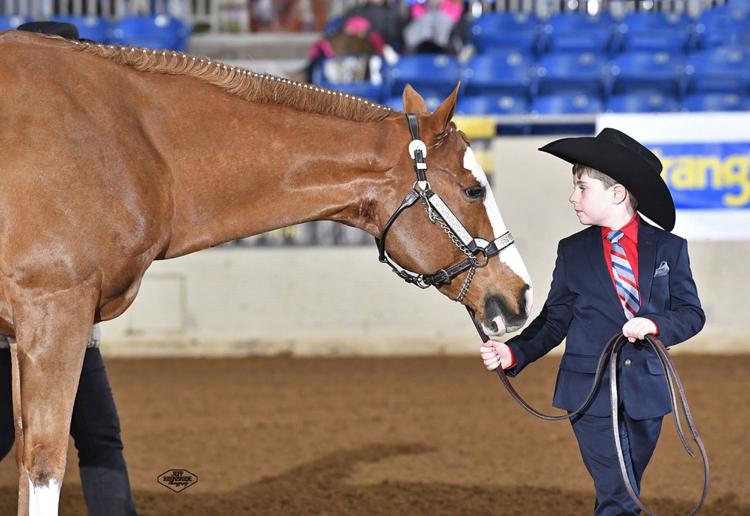 Weston's best performance was in Hunter Under Saddle, where he had to ride English-style and demonstrate that the horses can obediently respond to the rider's cues. In this class, he came in third place.
"That class is the hardest for me," Weston said. "I can't believe that out of all of these I got the best place."
He said that he worked hard to be able to do so well in that particular competition. He was also the youngest competitor in his class.
Weston had already spent half of his life riding horses, he said. He currently spends about 14 hours a week in the saddle.
He was introduced to the sport by his mother, Jessica Hayes.
"My mom was a horseback rider for a long time," he said. "So I wanted to do it, too."
Ms. Hayes started Weston with lessons when he was 4 years old. He decided that he liked it and never stopped. She said that now, Weston spends time every day riding up to three different horses both before and after school. This adds up to about 730 hours of practice every year, she said.
He now owns two horses—Parker, who is stabled at Alliance Equestrian Center on Stowe Road at Camp Lyndon and a new horse that is kept in Illinois because of the challenges of transporting Parker to competitions in the Midwest.
Ms. Hayes said that the new horse is being kept with a trainer.
Weston said that when many people think about sports, they think of sports like soccer, football, and baseball. He said that horseback riding is as much of a sport and involves learning skills like racing and jumping.
Ms. Hayes added that while other sports tend to be seasonal, horseback riding is something that Weston does year-round.
"It requires a lot of dedication and a ton of athletic ability," she said.
In the upcoming year, Weston plans to compete in the Pinto World Show in Tulsa, Oklahoma, and the American Paint Horse Association World Show in Fort Worth, Texas. In the meantime, he intends to keep practicing hard and keep getting better.
For other children who might be interested in competitive horseback riding, Weston advised that it is a big commitment.
"It takes a lot of work to have a horse," he said. "It's really fun, though because they're really interesting animals."
He said that people should at least try it out and see if they like it.
Ms. Hayes said that she is enjoying watching her son grow in the sport that she herself so loved.
"We're really proud of him," she said. "We're excited about what he'll do next year."