The starting quarterback for the Sandwich Bulldogs Mites team leads the league in rushing touchdowns and yards gained, but you probably would not hear that from her.
Oak Ridge School 4th grader Ava Shaw loves football and will talk for days about the technical aspects of the sport and is even excited to talk about the on-field accomplishments of her younger brother and teammate, Buddy Shaw, who as a 2nd grader, has successfully tackled the biggest player on the team.
However, she is remarkably humble when it comes to talking about herself despite being a star player and the only girl playing on any Bulldogs team.
Others are less hesitant to sing her praises.
Parents whose sons played on Ava's team this year have been talking about her talent to others while at other sporting events games and school events. Her teammates have talked her up to their classmates.
Word of Ava's prowess of the gridiron has gone so far as to catch the attention of Boston Renegades quarterback Allison Cahill—herself a six-time national champion in the sport. Ms. Cahill took the time to send Ava an encouraging video ahead of the Bulldogs' last game.
Even though Ava shies away from talking about herself, her mother, Alison Connolly Bruno, is ready to talk about her daughter's stats from the season.
Over the course of six games, Ava racked up 11 rushing touchdowns and over 1,000 rushing yards—more than any other player in the Old Colony Youth Football League.
On her own team, she was also the leader in tackles with at least 30.
Ava said that she started playing football as a 5-year-old on the Bulldog's flag football team. She said that she was inspired in part because her father played football.
She was also inspired because she enjoys watching NFL games—especially when the Patriots or the Buccaneers are playing.
It helps that women have been starting to make names for themselves in the football world, which is largely dominated by men. She said that Sarah Thomas, the first female referee for the NFL, is a big inspiration.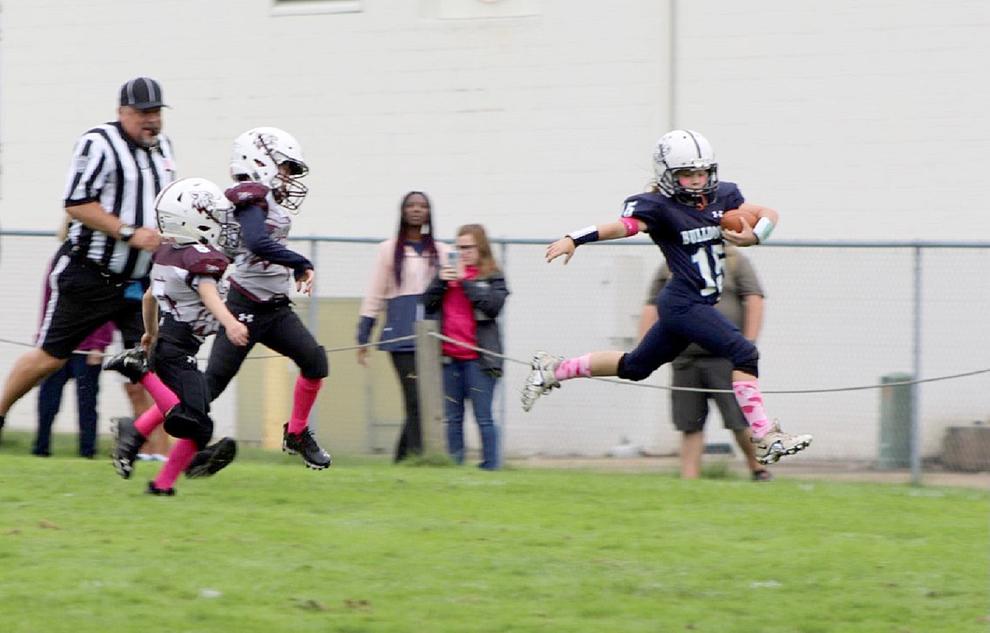 One day, Ava hopes to be able to play for the NFL herself. A lofty, but not unattainable goal as the NFL guidelines do not prohibit women from playing.
As the only girl on the team, her parents prepared her for the possibility that people might give her a hard time or have negative things to say.
"We told her not to talk back," Ms. Bruno said. "Just go out there and show them how to play."
Thankfully, those concerns were unwarranted so far.
Ava said that while she could tell that people looked at her a little differently because she is a girl, they quickly saw that she was more than capable of holding her own on the field.
She said that she would like to see more girls follow in her footsteps and join the team.
"It's kind of weird to be the only girl in town playing football," she said.
She said that sometimes she gets nervous before a game, a feeling her mother echoed.
Ms. Bruno said that she is relieved for all of the players when the game ends and no one was injured.
Ava is no stranger to injuries from football. During a practice early in the season, one of her teammates accidentally broke her tooth when he bumped into her wearing his helmet.
However, Ava toughed it out and stayed at practice that day, refusing to go home.
Even when she is not on the field, Ava is studying the game by watching videos of the best plays and watching games with her father.
Her siblings are also supportive, with sisters Bella and Anna Bruno running mock plays with her throughout their house, dodging the couch and tables while using a squishy foam ball.
They also quiz her on what different plays are called and how they are run.
Bella spoke proudly of an experience she had while sitting in the stands when the team played against Wareham. She happened to be sitting next to a woman who had been cheering for Wareham, but began cheering for Ava when she realized that Sandwich had a girl on the team.
"I love that you play," she said to Ava. "I wish Mom had signed me up."
Buddy said that he loves playing on the same team as his big sister, and that he looks up to her quite a bit.
Ms. Bruno said that she is proud of how hard Ava has worked. As quarterback, Ava has a lot of responsibility to make sure everyone on the field is where they need to be. Ms. Bruno said that she has taken that responsibility very seriously.
Football is a bigger commitment than other sports as it is, with practices three nights a week for at least two hours per practice.
Ms. Bruno said that Ava works hard on improving her game even when she is not at a formal practice.
Ava said that her friends think it is pretty cool that she plays on the team, in part because many of her friends are her own teammates.
She said that some of her friends who are also girls may have been inspired by her to try playing themselves next season. For those girls who might want to play, she had some words of wisdom.
"Keep going and never give up," she said.