Sandwich is poised to mirror the state's strict new vaping regulations that were announced by the Massachusetts Public Health Council on Wednesday, December 11.
The town's board of health met to discuss imposing its own strengthened regulations on Monday night, December 9.
Among those regulations is a total ban on flavored tobacco, flavored tobacco enhancers and all flavored tobacco delivery products, which will go into effect on June 1.
The town added the language banning enhancers after speaking with Robert Collett, the director of the Cape Cod Regional Tobacco Control Program. Mr. Collett attended the meeting on Monday to help the Sandwich health board frame its regulations.
He said manufacturers come up with new products all the time to skirt regulations. Drops of flavoring that can be added to vape and tobacco products are among the latest innovations, Mr. Collett said.
"It's kind of like playing whack-a-mole," board member Rebecca Lovell Scott said about trying to stay ahead of the manufacturers.
"Yes, they're inventive," Mr. Collett said of the vaping product manufacturers.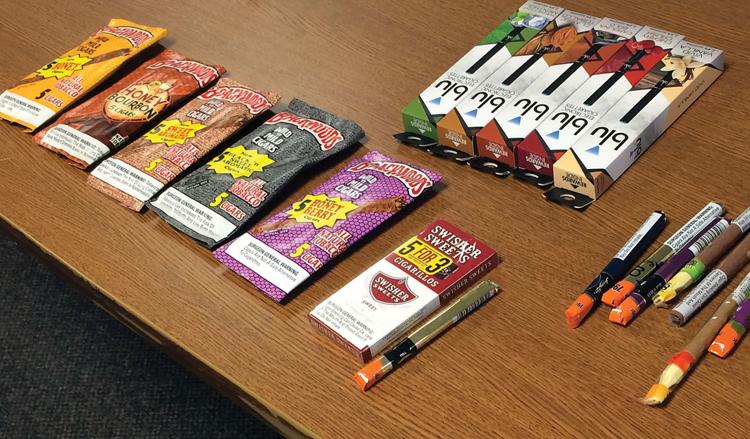 The state public health council on Wednesday lifted the state's emergency ban on vape stores and products. The state imposed the ban in September, citing several lung injuries and deaths from such products, including that of a Massachusetts woman.
The state health council announced several new restrictions on the industry, including a continued ban on flavored vape cartridges. Only "natural" tobacco-flavored cartridges are allowed under the new rules.
Even menthol cigarettes will be banned next spring, Mr. Collett said. Kools and Newports, for example, will no longer be sold.
"All flavored products will be gone by 2020 at the retail level," Mr. Collett said.
In addition, the Town of Sandwich has added a prohibition against vaping to its tobacco regulations. No smoking or vaping is allowed in work or public places, schools, health care institutions and beaches.
The sale of any tobacco or tobacco delivery products is prohibited to anyone under 21 and signs spelling out the state and local laws must be displayed in stores selling tobacco and related products.
Tobacco sales permits must be obtained from the town health department for any establishment that sells or distributes tobacco products. The permit must be prominently displayed, the regulations state.
Violations will incur fines ranging from $100 for the first fine to $300 for a third fine within a 24-month period. The board of health can revoke a permit for a fourth violation.
The new state regulations may allow for steeper penalties, according to a state board of health press release.
The town health board plans to discuss the regulations again in January and will then hold a public hearing, also possibly as soon as January, and then vote to set the regulations in place, health board director David B. Mason said. The town health board restricted the sale of flavored tobacco and vaping paraphernalia in 2016 and enacted strict penalties to ensure compliance. Convenience store owners said at the time that such restrictions would harm their businesses.
Mr. Collett said flavored tobacco delivery products will be allowed to be sold and consumed on-site in smoking bars. He added, however, that there are few of those in the state and none in Sandwich.
Board members said Monday they could alter the town's regulations to more closely fit those of the state—once all the new rules has been issued to the towns.
Mr. Collett said more than 140 of the state's municipalities had already put in place policies restricting flavored tobacco and vaping products.