Statistically low voter turnout among young Americans inspired Sandwich High School senior Jacob Swenson to educate his peers on their civic duty by bringing politics to the high school's main stage—literally.
Jacob said that, typically, younger people are less likely to exercise their right to vote. In the 2016 general election, registered voters between the ages of 18 and 29 had the lowest turnout as an age group, with 46.1 percent voting compared to 70.9 percent of voters age 65 or older.
"When young people are more involved, they are more likely to vote in the future," he said.
Through his independent study with advisor Michael Welch Jr., Jacob came up with an idea to bring in candidates in this year's special state Senate race to speak with students who are, or soon will be, of voting age.
Jacob said that the idea was approved by administration and that all of the candidates running were invited, regardless of party in the interest of being fair and balanced.
On Tuesday, February 25, five of the seven candidates for the Plymouth and Barnstable District state Senate seat spoke in the school's auditorium, answering questions from students. The audience consisted of juniors and seniors in the school.
Jacob moderated the event and had the help of Mr. Welch, as well as the assistance of some of his peers.
The seat the candidates are vying for was left vacant when Senator Viriato (Vinny) deMacedo left to become the director of regional partnerships at Bridgewater State University.
Democratic candidates Becky Coletta, Susan Moran, Thomas Moakley, and John Mahoney attended Tuesday's event. Jacob said that Stephen Michael Palmer was also expected to be at the event, but was not there.
The only Republican candidate to attend was Jesse Brown. Jay McMahon was not available.
Mr. Brown, as the sole Republican there, was given the opportunity to speak first. Jacob asked him questions on topics such as immigration, women's reproductive rights and environmental concerns.
In regard to climate change, Mr. Brown said that whether people choose to believe it is happening, changes have occurred, including increased erosion caused by more sea level rise and worsening winter storms. He said that he experienced the effects firsthand during a blizzard two years ago when the deck of his home was washed into the ocean.
"Things happen, and we need to be prepared," he said.
Jacob also asked Mr. Brown his thoughts on taxes, to which Mr. Brown responded that one particular tax he was opposed to was the Gas Tax, which he said would increase gasoline prices by 17 cents per gallon. Mr. Brown asked the audience if any of them wanted to pay that much more per gallon for gas. Only one student raised their hand.
Mr. Brown told the students that he is opposed to sanctuary cities as well as allowing illegal immigrants the ability to obtain a driver's license and access programs such as MassHealth. He said he would rather spend the $2 billion being spent to provide illegal immigrants with services on legal citizens.
He also opposes the ROE Act—a bill that would expand access to abortions.
"I don't believe that a 12-year-old should be given the right to get an abortion," he said.
In terms of LGBTQ rights, he said that he believes that all people were created equally.
Mr. Brown said he supports increasing access to affordable housing, is a strong advocate for vocational education and finding a solution to the vast number of nip-sized liquor bottles that litter the roadsides .
Once Mr. Brown's segment had concluded, the four Democrats were invited to the stage to participate in a forum. They were asked similar questions to those asked of Mr. Brown, although each candidate was also asked a question that was specifically tailored to them.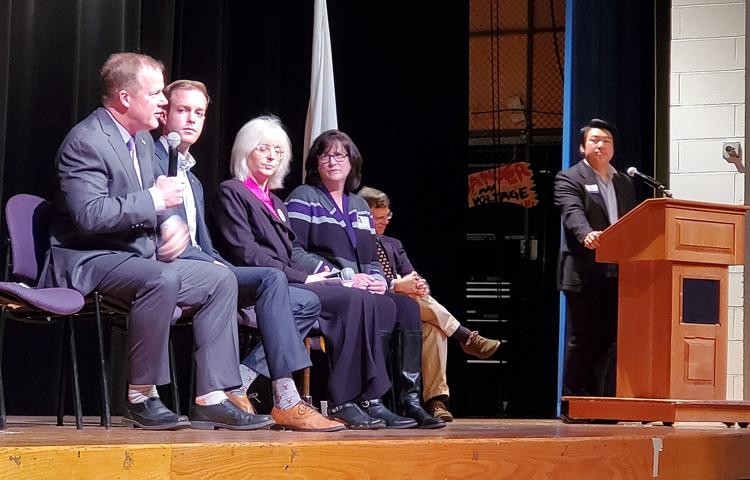 Each of the Democratic candidates said addressing the opioid epidemic was a priority. Ms. Coletta said that she would like to see more programs available for those suffering from addiction.
"People need to know that they are supported and have treatment options," she said.
Ms. Moran said that she would like to see safe injection sites being zoned locally.
Mr. Moakley said that since graduating from Falmouth High School in 2013, three of his classmates have died as a result of opiate overdoses. He said that he would like to see saving lives being prioritized over putting drug users in jail.
Mr. Mahoney said that he does not want to see law enforcement go after those who are addicted to drugs; rather, he wants to see drug dealers facing more legal repercussions.
"We need to help addicts get treatment," he said. "I don't want to see addicts incarcerated."
At 25 years old, Mr. Moakley is the youngest candidate running for the Senate seat. Jacob asked him if his age was a challenge or an advantage. Mr. Moakley said that it was definitely an advantage and that age is not an indicator of ability, any more than it is of intelligence.
He said that as someone who grew up on the Cape and is among the generation that will be most affected by a lack of housing and climate change in the area, he is more qualified as a result of his age.
Ms. Coletta was asked about her stance on a woman's right to make choices when it comes to whether to keep her pregnancies. She said that a lot of the discussion about the right to choose seems to come from a place of not trusting women to make decisions. The decision to terminate a pregnancy is the hardest decision a woman can make, she said.
She said the idea that a woman who has carried a fetus for six months would one day decide to abort that pregnancy on a whim is not a realistic scenario.
Jacob asked Mr. Mahoney, who is a Plymouth resident, if he felt that he could serve his Cape Cod constituents as well as those off-Cape.
"If you think I'm going to be an off-Cape senator, you don't know me," he said. "If you think I'm going to be a ghost in the community, I won't be."
He said that both sides of the Cape Cod Canal face similar issues, such as replacement of the bridges and regulation of the nuclear power plant.
Ms. Moran was asked about her thoughts on housing affordability and lowering the cost of living in the local communities.
She said that she was supportive of finding a way to provide housing for everyone and developing communities that have bike paths and are more pedestrian-friendly. She would like to see tax credits made available for employers who provide year-round housing for everyone.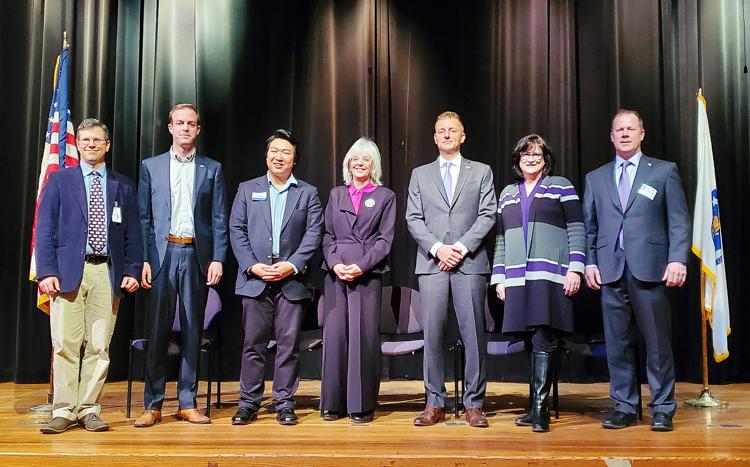 Each of the candidates spoke in favor of the Safe Communities Act, which would limit the ability of local law enforcement in terms of the deportation of illegal immigrants. The bill would allow immigrants to reach out to the police for help without the fear of being deported. They all also spoke in favor of reducing carbon emissions to net zero in order to try to reverse climate change.
All of the questions that were asked of the candidates were generated by high school students.
After all of the questions had been asked of the candidates, Jacob dismissed the auditorium section by section to go to the hallway behind the auditorium where they were able to take part in a mock election using sample ballot sheets.
Every effort was made to have the mock election simulate a real election, to the point of using the town's actual voting booths.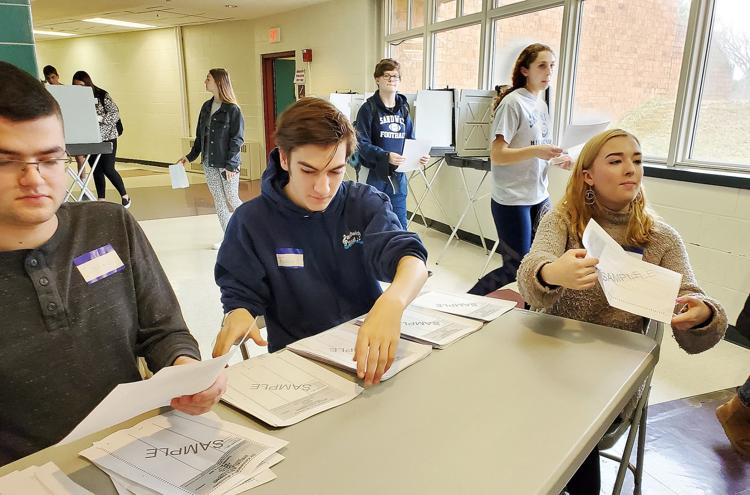 In total, 199 students cast their mock votes—77 voted for Republican candidates while 122 cast ballots for Democrats.
Mr. Brown was the clear Republican winner according to the students, capturing 96.1 percent of the vote. Mr. McMahon received 3.9 percent of the Republican votes.
For the Democrats, Mr. Moakley came out on top with 47.5 percent followed by Ms. Coletta at 38.5 percent, Mr. Mahoney at 10.7 percent, and Ms. Moran at 3.3 percent. Mr. Palmer did not receive any votes.
The state primary will be held Tuesday, March 3, with the state general election taking place on Tuesday, March 31.
The Plymouth and Barnstable District includes the towns of Falmouth, Bourne, and Sandwich within Barnstable County and Plymouth, Kingston, and Pembroke in Plymouth County.