When the Sandwich Public Library reopened on Tuesday, July 21, at 9:30 AM, there was a line of people at the door.
"There were five or six people waiting to get in," Library Director Joanne Lamothe said. "We had about 17 people come in during the first hour, and it's been a steady flow all day."
Librarian Abera Delaney, who was at the circulation desk on Tuesday, said many patrons just came in to say hello.
"So many who came today were old friends—people we know—who came by to see if we were really open. They were happy to see us and we were happy to see them," she said.
The library is the last of the town's public buildings to reopen after months of a COVID-19 shutdown. As with other reopened town spaces, strict antiviral protocols are in place.
Much of the inside is taped off with red caution tape that says "Danger, Do Not Enter." The main stacks are off limits, and a display table filled with books blocks access to the children's room.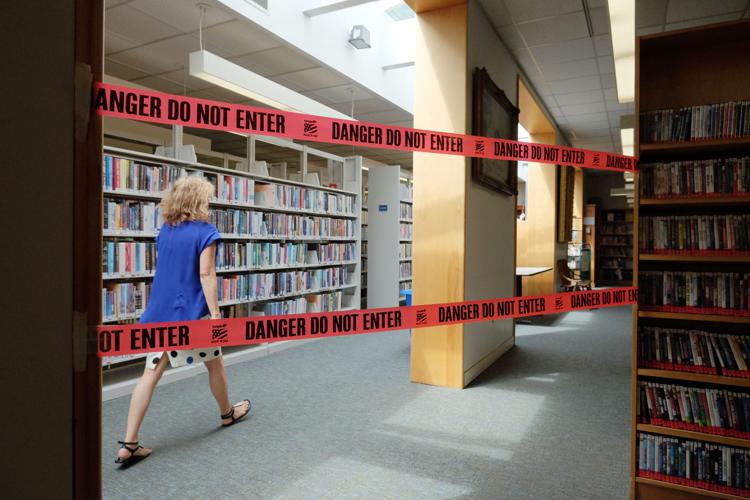 Red tape on the floor marks appropriate social distancing, and masked library staffers help patrons from behind plexiglass barriers.
Hand sanitizer and masks are offered at the ramped back entrance to the library. Also just inside the rear entrance, a big blue bin sits ready to accept returned materials.
"We hold onto those materials for 72 hours before returning them to the collection," Ms. Lamothe said.
Ms. Lamothe—and library trustees—have said that, while they hate the idea, they are discouraging people from spending much time during visits to the library.
"It really is like curbside pickup without the curb," Ms. Lamothe reiterated on Tuesday.
The staff prefers patrons to ask, ahead of time, for a certain book or tape and the librarians will—if it is available—find and put it on hold behind the circulation desk. Dozens of reserved items have been placed on shelves behind the circulation desk.
More than 700 of the library's items are out on loan at the moment, Ms. Lamothe said recently. Those items include books, audiobooks and movies that could have been loaned to Sandwich library patrons or to other libraries in the network.
Just beyond the reference area, "eyes-only" browsing sections have been set up for children, teens and adults.
If patrons see something that interests them, they should let a staffer know and it will be brought to the circulation desk. To check an item out, patrons can hold up their library card to be scanned through the plexiglass shield. Bar codes on books and other materials can also be scanned.
Computers are not available to the public, nor are fax or printing services. Meeting rooms remain closed.
The Main Street entrance to the building remains closed. People must exit the building through the side door leading to the parking lot—just left of the circulation desk.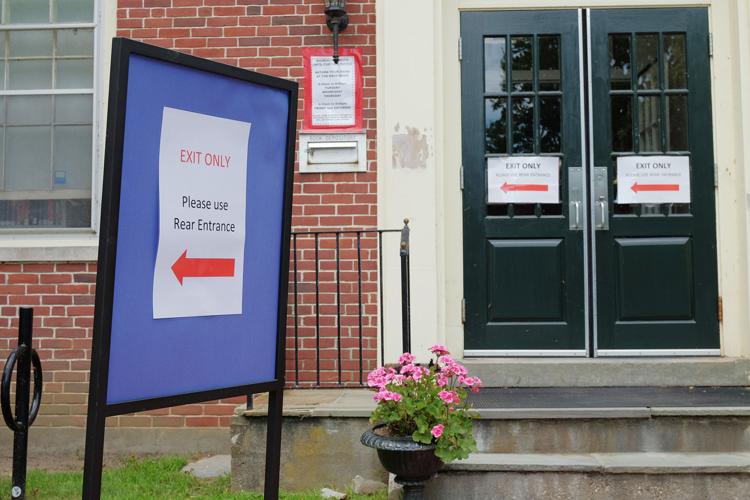 Overdue fines incurred during the coronavirus shutdown will be waived, the library director said. Regular circulation will resume at the end of this month.
The library is not accepting donations of books or magazines, and the Friends Book Sale has been canceled for now.
Archive visits are available by reservation-only.
Library hours are Tuesday, Wednesday and Thursday from 9:30 AM to 8:30 PM; and Friday and Saturday from 9:30 AM to 4 PM. The library is closed on Sunday and Monday.
Ms. Lamothe said she wants to maintain regular hours for now.
"We'll see how that goes," she said.
For those who would rather not venture inside the library just yet, many of the library's ebooks and programs are available online. For more information, visit www.sandwichpubliclibrary.com.