Sandwich STEM Academy 8th grader Timothy A. Sareault stood at the lectern in the Sandwich High School auditorium during Student Government Day on November 15 to share his research-based opinion on gun control with his 8th grade classmates.
Four others would follow—all selected to speak from the position papers they had written on two controversial political issues of the day: gun control, and climate change.
Though barely tall enough to be seen over the lecturn, Tim's voice was strong as he made eye contact with the audience. "People kill people," he concluded. "And guns help them do it."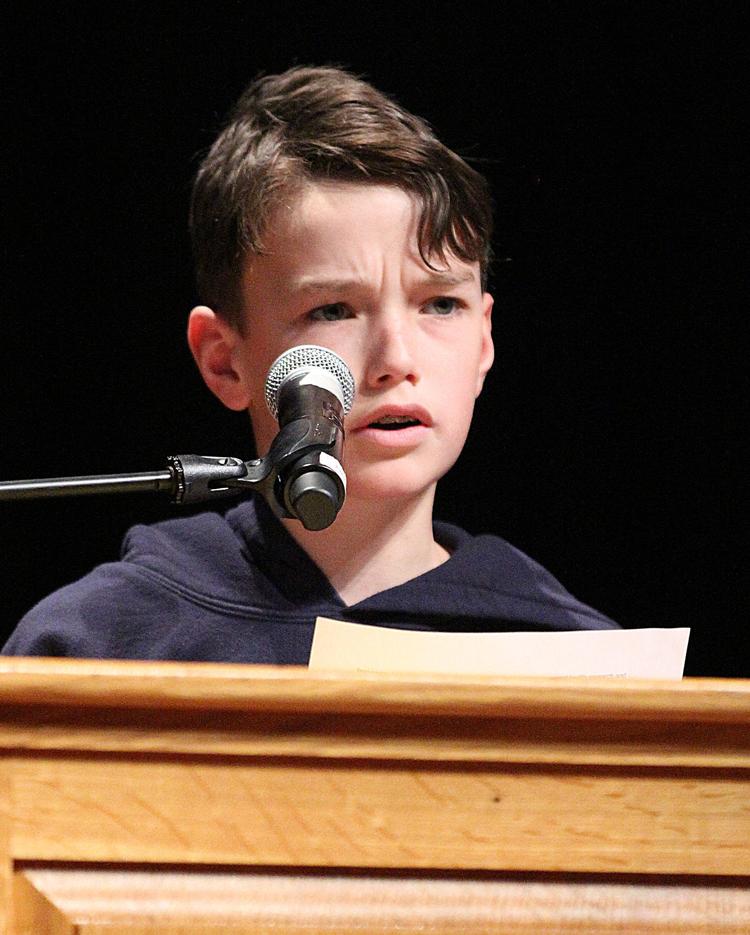 Not everyone agreed with Tim's position. The success of the morning could be measured in the respect the students accorded one another despite differences of opinion.
Student Government Day was hosted by Sandwich High School and STEM Academy and organized by senior Jacob D. Swenson in coordination with chairman of the SHS/STEM Academy History and Social Sciences Department, Michael L. Welch Jr.
The purpose of the day was to explore three questions: Who are the elected and appointed leaders or our municipal, county, and state government offices? What role does the government play in our lives and what impact does it have on our day-to-day activities? And how do you research and discuss political issues in a respectful manner to make decisions regarding contentious national topics?
The program began first thing last Friday morning, November 15, with an introduction to a broad slate of politicians and officials at the local, county, and state levels speak about their jobs.
In introductory remarks, Mr. Welch touted the success of the representatives of the 13 British colonies who, in 1776, declared their independence from a political reality they had known their entire lives.
"To many, this was an illegal act by an illegal assembly," he said. "But they knew they needed to create a new path and vision for American, and fast. In that moment, we created a new world; we proved that we did not need a king. We acted on the most revolutionary idea of all—that a people can govern themselves."
"Use your voice, use your choice," Mr. Welch told the students. "The survival of our republic in the spirit of democracy depends on every single one of you. You are the future of democracy."
The morning's speakers urged the young students to get involved in public service.
"I've always said that 'government' is just another name for what we, the people, decide to do together," US Senator Elizabeth A. Warren said in comments she had sent to be read aloud. "You will have to decide what matters to you, and how you are going to work to get it done," she said.
"It's a pretty powerful thing to make a difference," chairman of the Sandwich Board of Selectmen and Sandwich High School Class of 1995 graduate, David J. Sampson, said. "As a selectman, I have accomplished more than I ever thought I could, and learned more about how the town really operates on a day-to-day basis than I ever imagined. It's an opportunity to help people in the community."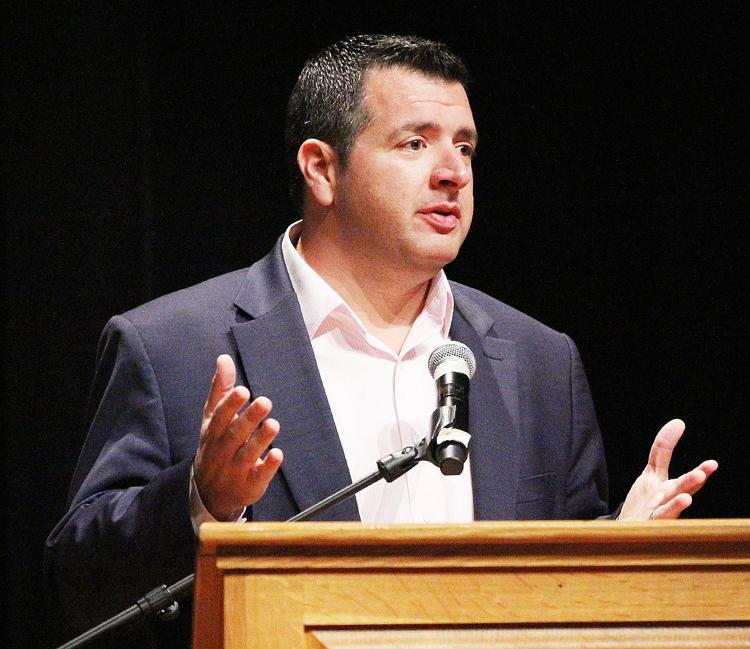 "In an election, every vote counts," said chairman of the Barnstable County Commissioners, Ronald Bergstrom—who won his seat by 500 votes. "The right to vote is a sacred trust that has been handed down to us from generations. We can't take it for granted."
"You don't have to be perfect to run for office," he told the students. "All you need is a dedication to the principles of our democracy, and to go out and earn the trust of people."
"Pay attention to your local government; become informed about how it is organized and the people who represent you. Become good citizens—the founders of our country depended upon you to do that," he said.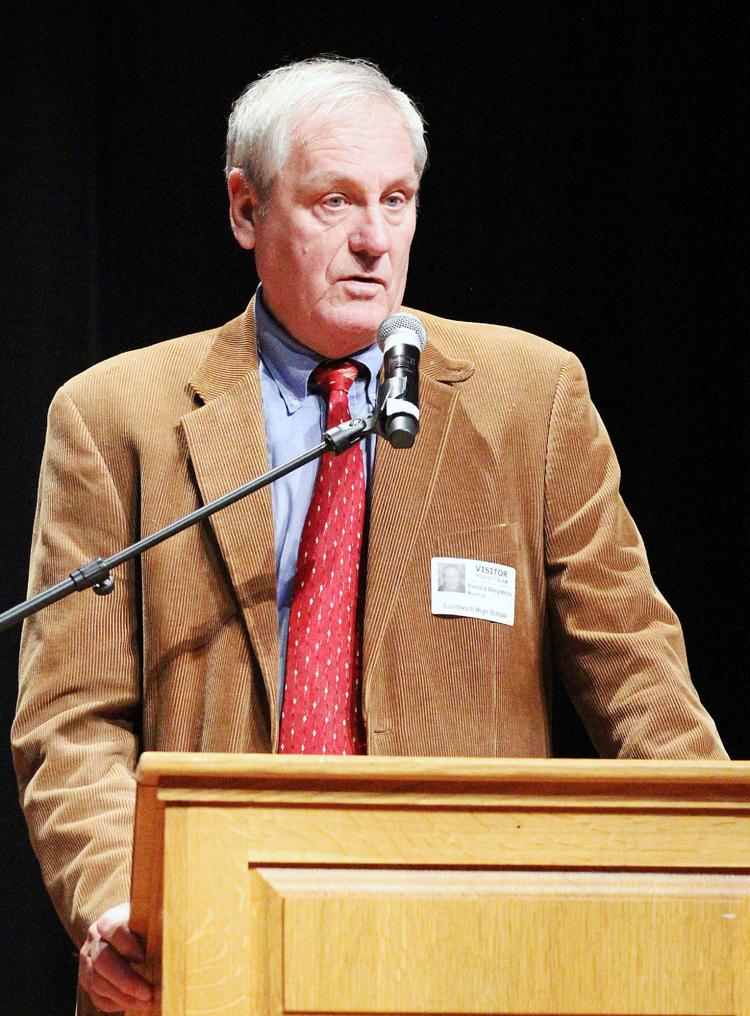 Sean P. Rausch, chairman of the Sandwich School Committee, submitted written remarks, in which he quoted Confucius: "If your plan is for one year, plant rice. If your plan is for 10 years, plant trees. If your plan is for 100 years, educate children."
"Every vote that the Sandwich School Committee takes has a direct impact on the children of the town," Mr. Rausch said.
"In 1790, John Adams wrote that the governor shall have councilors," governor's councilor for District One, Joseph C. Ferreira said, describing the eight governor's councilors whom most people do not know exist.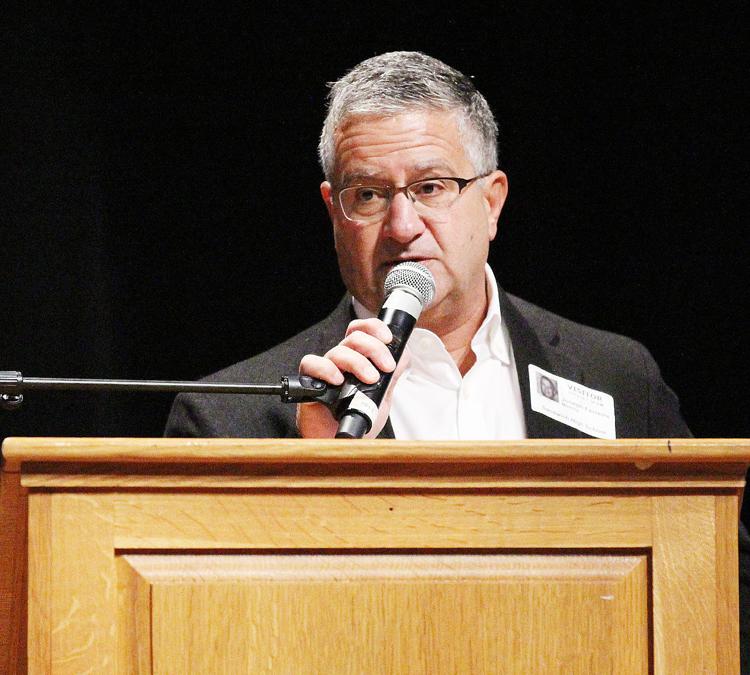 Mr. Ferreira, who began his political life when he ran for office in middle school, encouraged any student who would like to talk to contact him by cellphone or email.
State Representative for the Fifth Barnstable District Randy Hunt described how state representatives can "unclog the system" for their constituents by meeting with them, hearing their concerns, and writing and passing legislation. "We connect state government back to the people in the district," he said.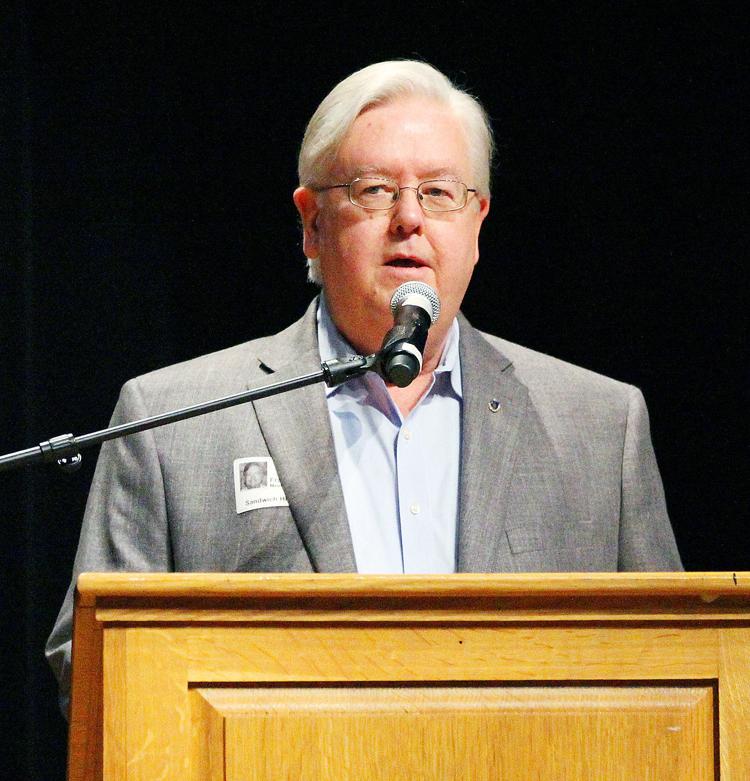 State Representative for the Barnstable, Nantucket and Dukes District Dylan A. Fernandes does not represent Sandwich, but was invited, as "the token young guy on the Cape," to speak from a younger politician's perspective.
Mr. Fernandes pointed out that although Massachusetts is a small state, it "punches above its weight."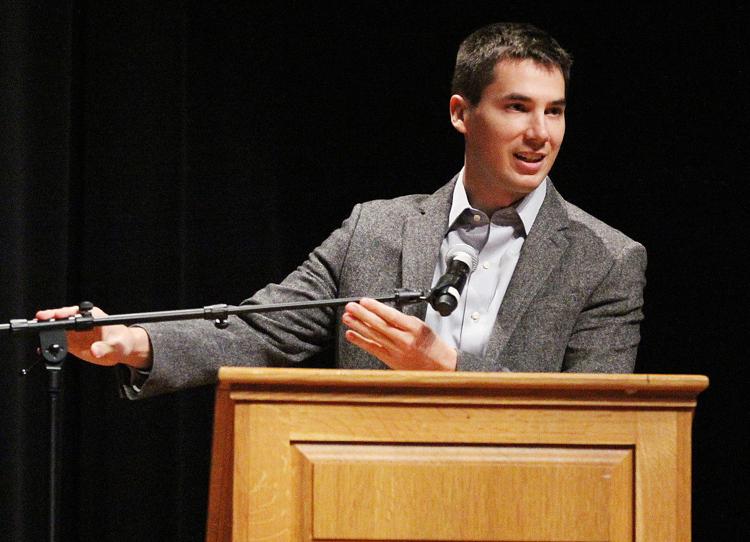 "We lead the nation on a lot of state legislation issues," he said.
Mr. Fernandes, who acquired his political credentials, in part, by working as an intern for Barack Obama's campaign for president, Elizabeth Warren's campaign for senator, and by serving on Maura Healy's campaign for attorney general, ran for state representative at the age of 26.
He touts volunteering to work with a political campaign as one of the best ways for young people who are interested in public service to get involved.
"No matter what you do," he said, "if you have a goal and work hard toward it, you can succeed, and I promise you will be better for it. Never let anyone tell you you're too young or too inexperienced to make a difference."
"Your generation's voice is critical," State Senator for Cape Cod, Nantucket, and Martha's Vineyard Julian A. Cyr said to the 8th- graders by video. "The skills you are learning now are going to serve you well."
"Local office gives you the opportunity to cut your teeth on what impacts people's everyday lives. You learn what things people really care about," Massachusetts State Treasurer Deborah B. Goldberg said by video.
"Public service is truly a wonderful path to follow; at the end of the day, we're really trying to make people's lives better," she said.
"It's your civic participation that keeps our democracy alive," State Auditor Suzanne M. Bump told the students by video.
US Representative William R. Keating, who began his political career by handing out pamphlets in support of candidates before he was old enough to vote, and successfully ran for state representative at the age of 23, said by video: "Pay attention, hold your elected officials accountable; stay involved."
After the listening ceremony, 9th grade students went back to their classrooms and 8th grade students participated in breakout workshop sessions, each moderated by two upper class students, to engage in respectful dialogue about gun control and climate change.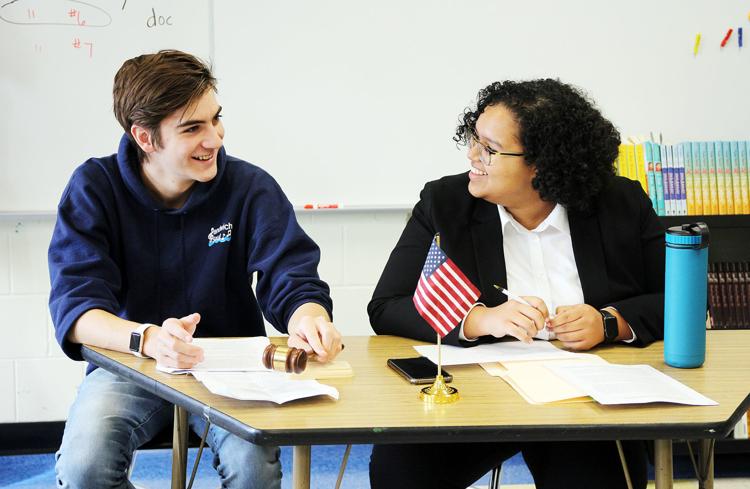 In a "four corners activity," moderators read thought-provoking statements and prompts, meant to be controversial and spark discussion, on some of the most difficult questions relating to gun control and climate change.
Students were asked to go to a corner of the room that most closely aligned with their beliefs and position about the statements.
Each corner of the room represented one of the four options: strongly agree, agree, disagree, and strongly disagree.
The 8th graders had done research on the topics in advance and had written position papers, which they were allowed to use to support their views and opinions when asked to speak. All students were encouraged to speak about their positions, especially when they embraced a minority view.
On the issue of gun control, moderators prompted discussion with these statements and questions, among others:
"Teachers should be trained to bear arms."
"Guns don't kill people, people kill people."
"I worry about going to school because of guns."
"Should states be allowed to have different gun policies?"
On the issue of climate control, they used these prompts for discussion, among others:
"Should discussion about climate change be avoided in classes because it is 'too political?'"
"Is climate change the biggest existential threat our nation faces? If it is not, then what is?"
"Will the Green New Deal even accomplish anything in the grand scheme of things?"
"It is estimated the Green New Deal will cost trillions of dollars. Is the cost of transitioning our energy system and economy to combat climate change worth it?"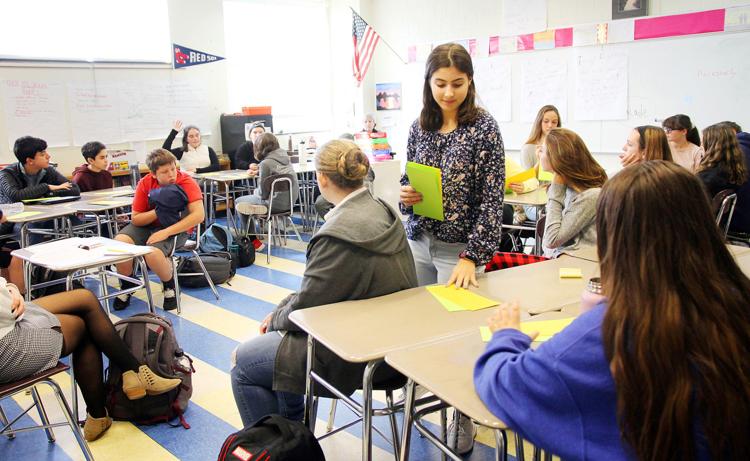 "When there are no restrictions—such as being told it is not possible—young people think of solutions," 10th-grade moderator Aimee R. Champagne said afterward.
"If they weren't comfortable with the issue of teachers having guns in classrooms, for example, they suggested that teachers be armed with something less lethal, such as taser guns. They found middle ground. When there are no restrictions, young people come up with solution after solution," she said.
"It was a comfortable experience to be able to express what we thought," 13-year-old 8th-grader Shauna A. Sabin said.
"We were able to get our opinions out and be honest on these topics which will decide our future. If we don't speak, our futures will be what past generations wanted, and have passed on to us."
Students were given green and yellow "ballot cards," before returning to the auditorium for a mock vote.
There, they listened to the five students chosen to speak from their position papers in favor of, or against, the resolutions discussed during the workshops, in an attempt to sway students one last time before the vote.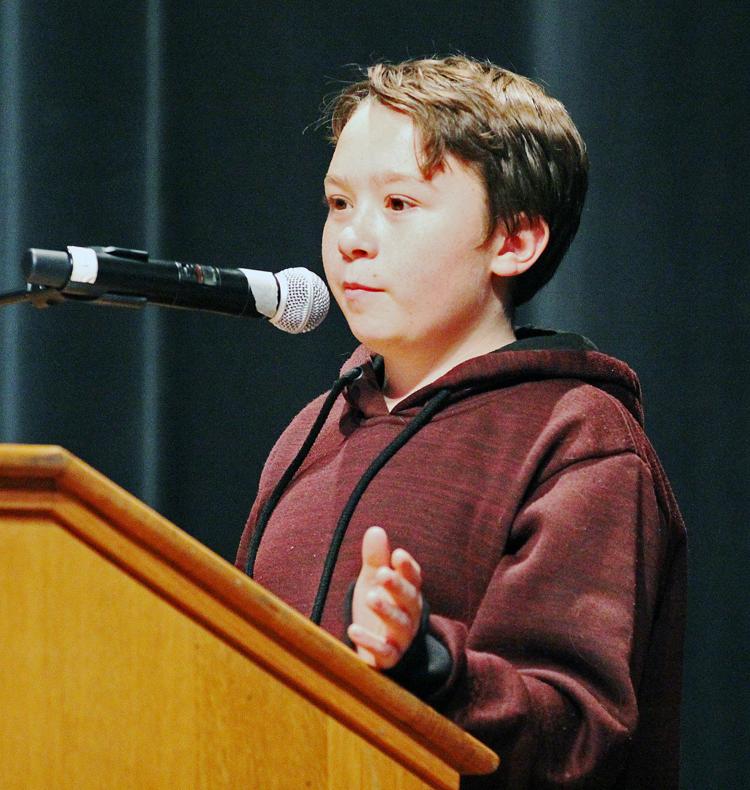 The votes were counted in a Town Meeting-style format with student moderators serving as tellers and two seniors acting as the clerk and deputy clerk.
The STEM students passed the gun control resolution, 157 to 32. The Green New Deal resolution passed more narrowly, 110 to 94.
"We shall nobly save, or meanly lose, the last best hope of earth," Mr. Welch said to the students, quoting President Abraham Lincoln's annual message to Congress in 1862.
"In using your voice." Mr. Welch said to the students, "you ensure the continuation of our democratic process. That makes you the last best hope of earth."