Town Clerk Taylor D. White is always relieved when an election is over, but this year's twin stresses of campaigning to get people to vote early—and trying to keep those who did vote in person safe—left him both winded and mystified.
"It's a weird feeling," he said on Wednesday, May 20. "It's like you plan for a big party and hope nobody shows up. Then when very few show up, you feel like you did your job, but it also doesn't feel like you accomplished anything."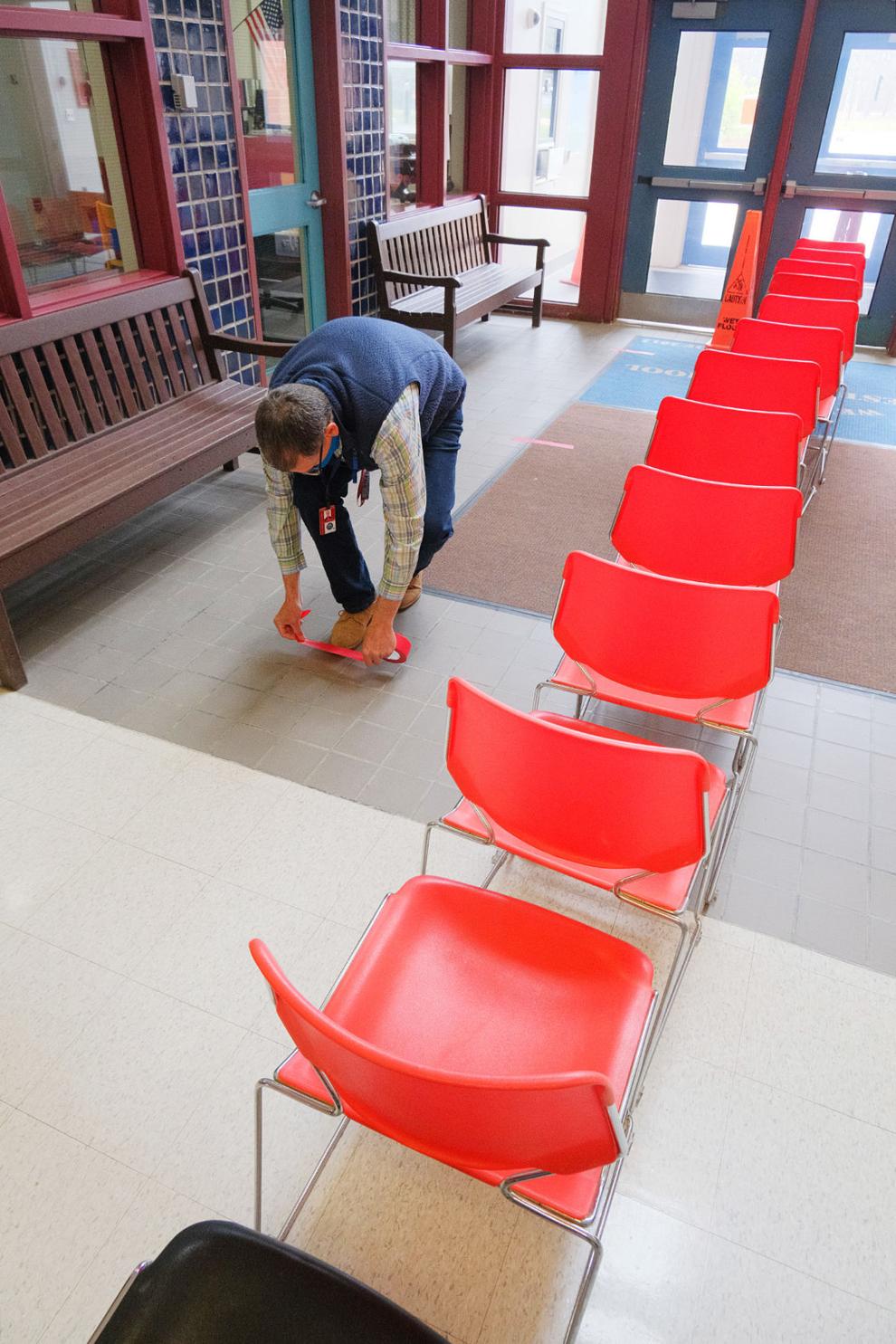 Such was the strange Sandwich election landscape in the COVID-19 era, when voters were urged to vote early and by mail, but in-person voters were accommodated with sterilized voting booths, plexiglass sheets between voters and poll workers, and arrows on the floors of polling places to keep voters from bumping into each other.
A total of 2,400 people voted in the local town election, which had only one contested race. Three candidates were running for two openings on the planning board.
Incumbent Robert E. King and newcomer Mark Callahan were the top vote-getters.
Mr. King won with an unofficial total of 1,473 votes. Mr. Callahan garnered 1,215 votes and newcomer John R. Casali came in third with 900 votes.
"I would like to thank everybody for their support and confidence in me," Mr. King said Wednesday. "We'll continue to do the work of maintaining a lovely town while growing steadily."
The other 14 openings for town office all had only one candidate per slot. Those offices covered a wide range—of mostly incumbents—from the board of selectmen to the Weston Memorial Fund.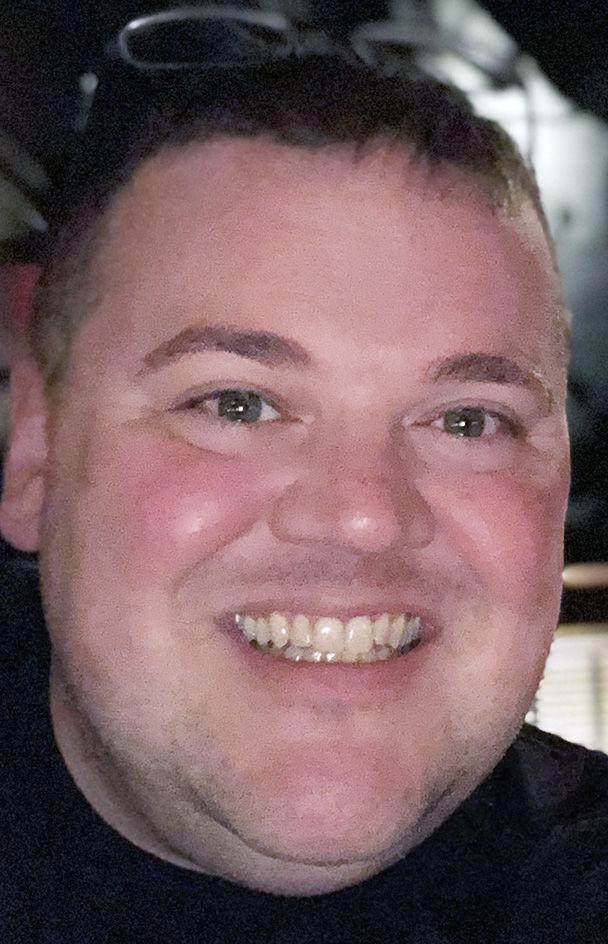 There was also a special state election held Tuesday to fill the Plymouth and Barnstable State Senate District seat left vacant by Viriato (Vinny) deMacedo.
About 3,100 Sandwich voters cast ballots—either in person or by mail—in the special state election to fill the Senate seat. That election pitted Democrat Susan L. Moran of Falmouth against Republican James R. McMahon III of Bourne.
In Sandwich, Ms. Moran won with 1,679 votes to Mr. McMahon's 1,422 votes.
Voters interviewed Tuesday at polling places at Oak Ridge and Forestdale schools said they mostly turned out to vote in the state election.
"I don't believe in voting by mail," said a voter at Oak Ridge School as he was exiting the building.
The voter, who asked to be identified only as "Bob," said he had lived in Washington, DC, and Philadelphia, and had acquired a healthy distrust of voting in any way other than going to the polls.
Echoing the comments of other voters interviewed on Tuesday, Bob added that he was confident that town election and health officials had made the polling places safe and sanitary for the voters.
He said he came out to vote for Mr. McMahon and "just voted the ballot" for the town candidates.
Mr. White said several of his usual poll workers, who are older and at greater risk of contracting the coronavirus, asked to be relieved of their duties this year. But other members of the community stepped up to help, Mr. White said.
Among them were former Sandwich Fire Chief Dennis Newman and his wife, Mary Ann, who served as poll workers at the Forestdale School.
"I had absolutely no hesitation about coming out to help. I would do it again," Chief Newman said. "The security and sanitation efforts have been great."
Retired Police Officer James Foley, who has worked the polls for many years, said that while the turnout was low, he had seen even fewer voters show up for some town elections.
"I think most people are coming out today for the state election," Mr. Foley said.
The volunteers said the polling places were already set up with Plexiglas and floor markings when they arrived at 6:30 AM.
"It took a lot of town employees to make it safe, but they did a good job," Mr. Foley said.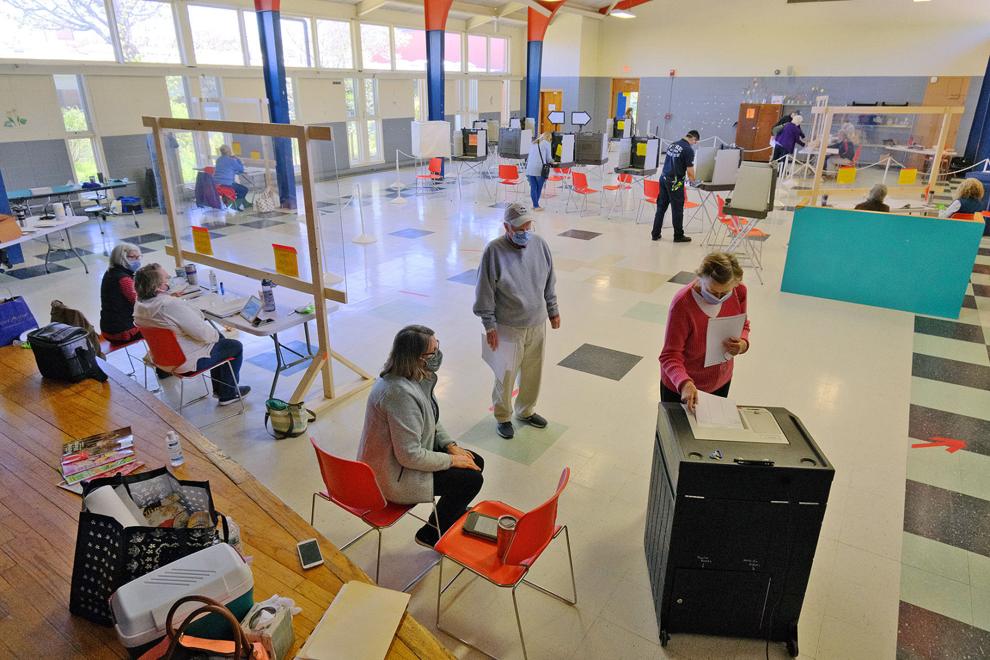 Mr. White concurred. In addition to about 35 poll workers, Health Director David B. Mason and the facilities department helped with the layout of the polling places, and firefighters and paramedics sanitized the booths and other areas throughout election day.
"We only had an average of 20 people per hour coming through to vote, so firefighters and paramedics were able to sanitize the booths after every use," Mr. White said. "It was a pretty smooth operation."
The town clerk's office staff, poll workers and everyone else who contributed can now take "a breather for the summer" and resume their efforts and precautions, if necessary, for the September primaries, said Mr. White, who then paused to yawn.
"I'm glad it's over," he said.