"We've got files everywhere," Building Commissioner Brandon W. Brides said, as he looked out his office window at 16 Jan Sebastian Drive where two men from the town's facilities department were loading large, empty, Korean War-era file cabinets onto a truck.
These will be taken to the Department of Public Works, where they will be crushed and sold for the steel.
The newer black and gray file cabinets will be taken to the Forestdale Fire Station to be stored and made available to the town on an "up for grabs" basis.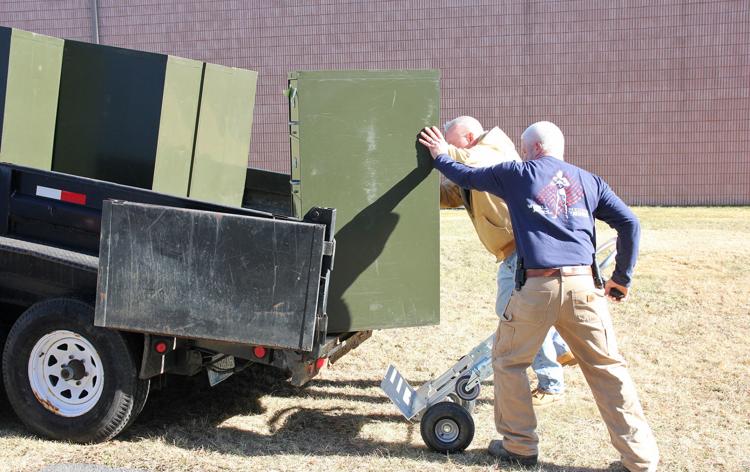 The contents of these filed cabinets, aged and otherwise, are packed into cardboard boxes which are picked up by "the Ricoh man," who was seen loading his truck in front of the building that same morning.
The Ricoh Company, Ltd, is the multinational imaging and electronics company hired to digitize documents used by the town offices on Jan Sebastian Drive, such as the Building Department, the Assessor's Office, the Department of Natural Resources, the Engineering Department, the Planning and Development Office, and the Board of Health.
This is a process that will take "quite a few months," Mr. Brides said, as he opened empty file cabinet drawers in one office after another to show progress already made clearing out some of the 156 file cabinets the building has housed.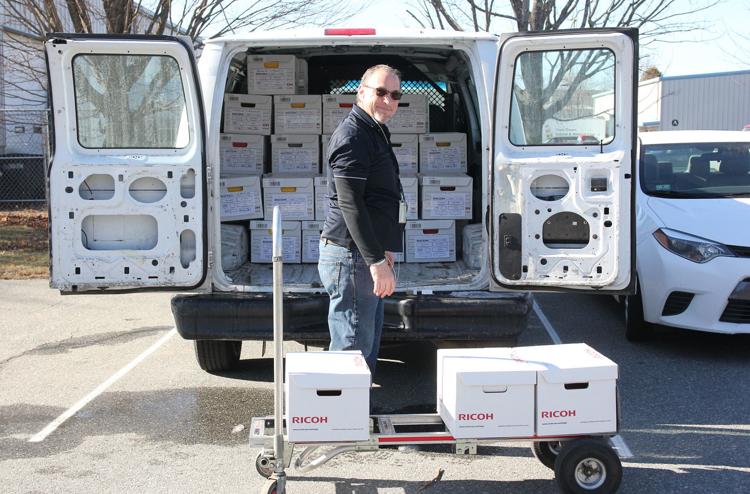 "Empty drawers—I love it!" he said.
Town offices on Jan Sebastian Drive will gain vast amounts of wall space, and small rooms now completely packed with file cabinets will be cleared and available for other uses as files are loaded into boxes for transport to Ricoh, which will digitize them at a company facility.
Ricoh started picking up boxes three weeks ago, Mr. Brides said.
Once the files are digitized, the state allows the paper copies to be destroyed.
"This is the way of the future," Mr. Brides said.
After plans and files are digitized, they can be searched online. "People won't have to come into the town office to get them," he said.
If someone is putting up a fence in the historic district, for example, a concerned neighbor can go online to see if the fence was approved by the historic district committee.
If someone is building near a conservation area, a copy of that person's notice of intent can be reviewed online.
Health department Title V reports, and the location of a property's septic system will be available online—a boon for septic installers.
Engineering department road layouts and driveway approvals will be available online, too.
Zoning decisions, and special permits and variances issued will be found online under the Planning and Development Department.
Building permit applications, certificates of occupancy, zoning violations, complaints, and house plans will be available online through the building department, to give an general overview.
"It's a great opportunity for realtors as well, to be able to research properties from their offices before listing them for sale," Mr. Brides said.
Once the process is complete, a person will be able to learn a lot about a building or residence online by typing in the address and using a drop-down menu.
The downside, between the digitization of records and the online permitting already in place, he said, is that town employees will have far less face-to-face interaction with the public.
Although it is nice "to see the building busy with people coming and going," Mr. Brides said, "the digitization of records is becoming the way to go for most towns now. I think people will be excited about it."
Funding for this project was authorized at last spring's Town Meeting, after the town studied, in 2017, the potential cost to digitize the permitting and regulatory documents filed at the Jan Sebastian Drive offices.
Last fall, Assistant Town Manager Heather B. Harper submitted a grant proposal to the Executive Office for Administration and Finance, and received a Community Compact Information Technology grant in the amount of $20,000.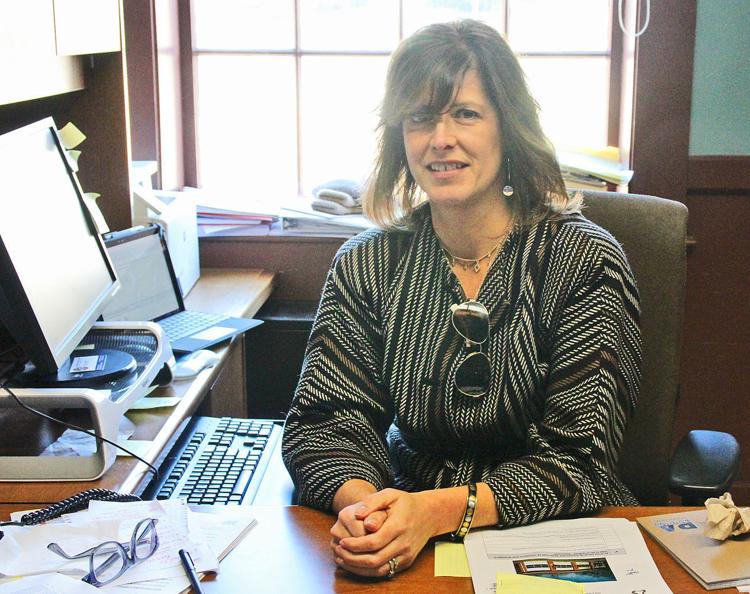 This money will be used to fund the digitization of records at the town hall and town hall annex, excluding vital records such as birth certificates, death certificates, and marriage licenses, which were digitized by the state a decade ago, Town Clerk Taylor D. White said.
"The state grant is a nice recognition that we are doing the right thing," Ms. Harper said. "Improving service via technology is a great step in the right direction for the town."
Admitting that the move from paper to a digitized platform might initially be challenging, she believes the eventual ease of accessibility of documents, internally and for the public, will be good.
"It will take time, but we'll get there," she said. "And we're not going anywhere; we will still be here to help people."
The town hall and annex plan to use the Ricoh Company as well, and are working on the contracting now.
"Documents need to be assessed to get a handle on what are permanent records. We have to think about the system we want," Ms. Harper said. "From a maintenance and records retention standpoint, the easy part is the scanning. "
Once the files are delivered to Ricoh, she said, it can take a month or less to digitize one department's records.
Then comes the process to reintroduce the records in the new format, once they can be retrieved by an index that makes sense for each department.
"It is a good time to reduce our file storage footprint and work on the same platform for improved customer service and citizen response," Ms. Harper said, as town employees look with "hopeful anticipation" at having all town offices under one roof in a new building at 100 Route 6A.
Ms. Harper said that the secretary of state makes clear, in the Records Retention Law, which records to keep.
"We have a great town clerk," she said of Mr. White, who helps each department review its records in terms of the state Publications Retention schedule," she said.
"It's still hard to get rid of some things sometimes, even when we are allowed to," she said.
Mr. Brides agreed. "Some of these files are 50 to 60 years old," he said as he stood in the Engineering Department's office looking through some of them.
"A stumbling block is the idea of throwing things out that are this old," he said.
Thumbing through a large plan book for the Town of Sandwich that dates back to the 1930s, Mr. Brides said, "This will go to the Town Archives."