All but one of Sandwich's Mid-Cape Highway on- and off-ramps fail to meet federal highway safety standards.
Federal standards call from the ramps to be 1,020 feet long to allow for proper acceleration and deceleration. Of the 12 ramps in town, 11 fall short, literally. Some are just 250 feet long.
For David Nolan, transportation planner for the Cape Cod Commission, that is a serious problem.
He said that short ramps do not allow drivers adequate room to speed up to merge with highway traffic or slow down to exit. Crashes can occur.
"When people come around those ramps and come off or on the highway making sharp turns and there's not much time to decelerate, that's where you see the rollover crashes," he said.
He noted that there have been four rollover crashes on or near the Mid-Cape Highway's exit 59 (formerly exit 2) in Sandwich so far in October. One of those crashes was fatal.
Over the course of the winter, Mr. Nolan and the commission will analyze all accidents along the Mid-Cape to better determine causes and come up with action plans for the roadway.
Sandwich is not alone on the Cape with its subpar interchanges. A highway survey completed in 2019 by the commission showed that 94 percent of the on- and off-ramps on the Cape fell into the "below" or "well below" the federal standard category.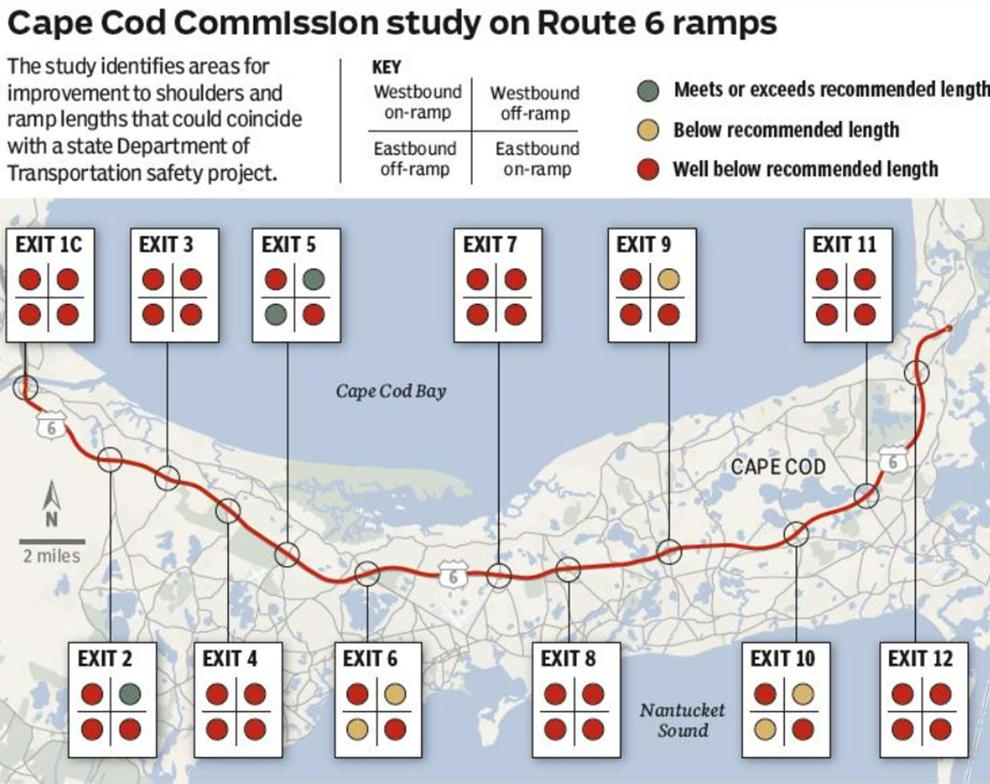 Sandwich had 11 exits that earned the "well below" distinction, the most on the Cape.
The only ramp in town that did not fall well below the standard was the westbound off-ramp at exit 59.
Part of the issue, Mr. Nolan said, is the age of the highway. The interchanges were designed in 1950 for smaller cars and slower speeds and do not meet the standards today.
Rebuilding each on- and off-ramp will cost the Massachusetts Department of Transportation millions of dollars, but each time an exit is repaved or lined it is an opportunity for extending the ramps and the implementation of safer shoulders, Mr. Nolan said.
"The purpose of our (2019) study was to inform their (MassDOT) future projects on the Cape," Mr. Nolan said. "We wanted to give them something to point to when looking at a repaving project like how much longer or more paving do we need to bring the ramp closer to the standard or to the standard. We are starting to see those changes on Cape."
Most recently, Yarmouth exits were repaved and lengthened. Improvements to Barnstable exits are in the works.
No such improvements are planned yet in Sandwich, he said.