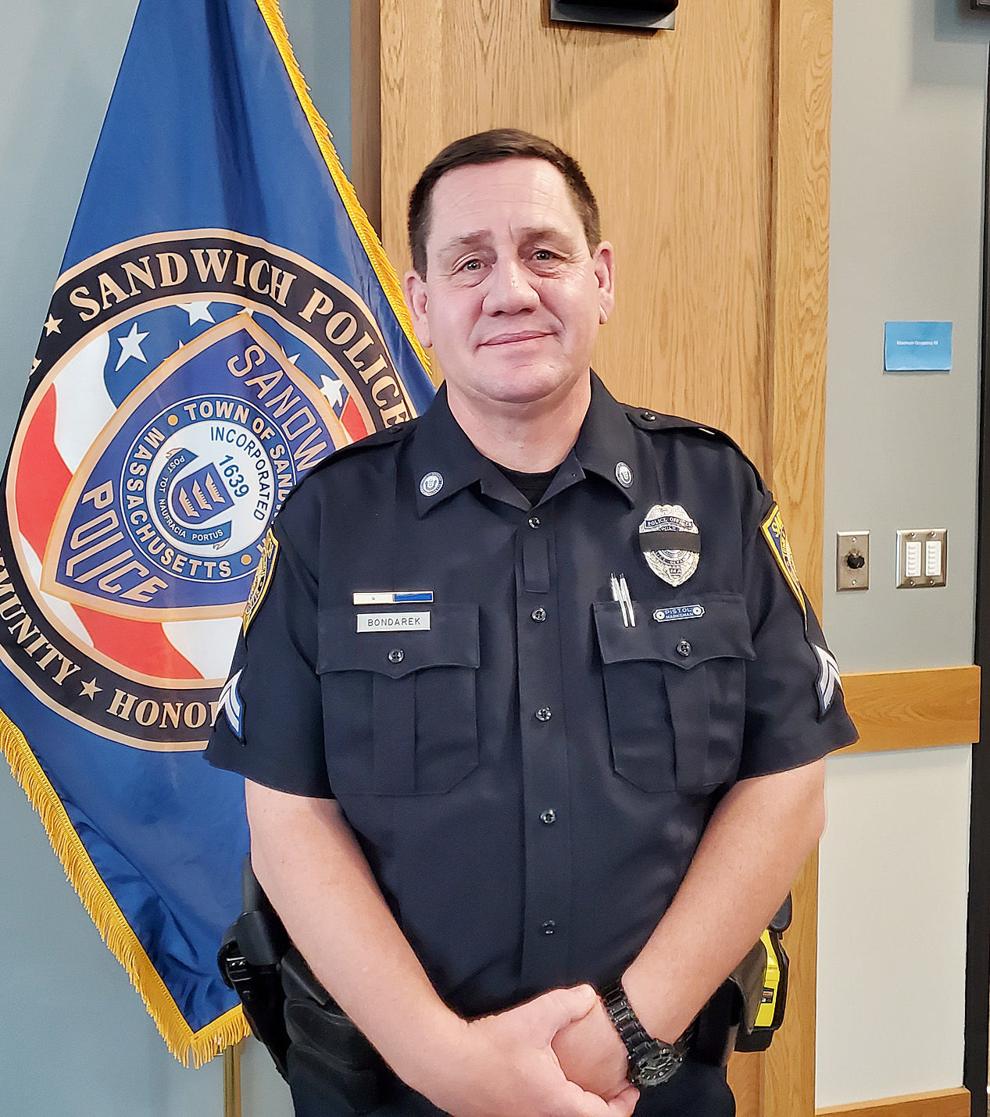 As the Community Service Officer for the Sandwich Police Department, Brian A. Bondarek has his hands full, from mental health services, overdose follow-ups and helping the town's elderly population.
Officer Bondarek is the most senior patrolman on the Sandwich force, going on his 26th year. He has been the department's Community Service Officer since 2017, taking over for Lauren Gilrein, following her promotion to sergeant.
When Officer Bondarek arrives to the station in the morning, he often finds copies of reports left for him, detailing cases that he may need to follow up on.
For example, if a resident has overdosed during the night, he will get in touch with Recovery Manager Lenny Cardoza from Gosnold, Inc. and the two will check in on that person together, along with a clinician.
"That kind of gets me into the door to be able to get the family the help that they need," he said.
Lieutenant Joshua H. Bound said that Sandwich Police Chief Peter N. Wack reinstated the Community Service Officer position around 2015, which initially worked out of the schools. This ultimately evolved into two positions—Community Service Officer and School Resource Officer.
Chief Wack wanted the department to have more of a connection to the community, and having the Community Service Officer working out of the schools meant that many other people in town were missing out, Lt. Bound said. So the position was split.
When Sgt. Gilrein was in the role, she established a number of programs in town, which have met the needs of people within the community who were previously underserved. Lt. Bound credited her with establishing the follow-ups with people who have overdosed, bringing Gosnold resources directly to their doors, as well as checking in with people who have been victims of domestic violence.
Officer Bondarek has continued that work, and then some.
He said that on any given morning, he might be handing out stickers to children at summer camps with School Resource Officer Jessica Kent and, from there, go to help out an elderly resident who is dealing with food insecurity or needs a ride to get medical assistance, which he will coordinate with the Sandwich Council on Aging.
Lt. Bound said that Officer Bondarek is well-known in the community and is adept at developing a rapport with people, which has made it possible for him to build upon the work started by Sgt. Gilrein.
"Brian actually saw a need to address mental health issues, not just substance abuse issues," Lt. Bound said.
One of the ways he has done this has been to establish a group composed of people from different town agencies, such as the fire department and council on aging, that share resources and information about people in the community who may be struggling in one way or another.
"It's like an early intervention system," Lt. Bound said. "We recognize there may be an issue and we try to provide the resources that they need in order to be successful."
For example, Officer Bondarek and the team were recently involved in getting a wheelchair ramp installed at the home of an 81-year-old wheelchair-bound resident. Before the ramp was built, the man and his wife had to call for paramedics to help get him out of the house.
Now, the couple has the freedom to come and go as they please.
Besides assisting the individual, this early intervention team has helped reduce the number of calls coming into the police station concerning social service issues.
When residents are calling the police for this sort of support, Officer Bondarek said, it is often because they do not know where else to go.
These calls allow officers to help these residents figure out where to go, whether it be for financial assistance, mental health help, or rehabilitation resources, among others, Lt. Bound said.
The early intervention group, formally known as the Community Crisis Intervention Team (CCIT), has members from Bay Cove Human Services, the National Alliance on Mental Health (NAMI), Sandwich Council on Aging, Gosnold, as well as clinicians, doctors, and a representative from Barnstable District Court, to name a few.
The CCIT meets monthly to discuss individual cases and to see how they can help.
Officer Bondarek started his mental health training almost as soon as he took on the position, going through a five-day course through the National Alliance on Mental Health in Hyannis.
"I had a need or want to learn more about mental health because I had a couple of calls, people that kept coming up," he said. "So I saw the training and jumped on it."
During the course, he was trained on a number of aspects related to mental health, including something as simple a building relationships with hospital emergency departments, so that they will contact him if a mental health patient from town is being brought into the hospital. It is a simple act, but so very helpful, Officer Bondarek said.
The training was offered to him at no cost, and he said that it has led to him teaching a course at NAMI on de-escalation and setting up teams and relationships among town members similar to the multi-agency committee he has set up in Sandwich. He also teaches a course called Mental Health First-Aid, which he said is kind of like CPR for when someone is in a mental health crisis.
"Basically it's to teach people, whether they're lay people or medical or police, how to interact with someone that may be suicidal, how to talk to them and what to do," he said.
He said that other members of the department have now gone through the training, so six officers and four dispatchers are versed in how to handle these delicate situations.
Lt. Bound said that police work across the country has been evolving to meet the needs of communities and that law enforcement today looks a lot different than it did 20 and 40 years ago. He said that Officer Bondarek has been leading the changes on the mental health front here in town.
"I keep saying it. It's about the community and what the community needs," Officer Bondarek said. "That's what your public servants are here for."
Other departments are seeing what Sandwich is doing and reaching out for more information on how to incorporate mental health training in their departments. On Cape, he said that Barnstable, Yarmouth, and Bourne have been getting into helping people in their communities when mental health issues arise.
Officer Bondarek said that he wants residents to know about the work he does because he wants people to know that the department is paying attention to the mental health needs in town.
"People who are just struggling and don't know where to go, we're available to help them out," he said.
The best way to reach the Sandwich Police Department and Officer Bondarek for non-emergency needs is through the department's main phone line, 508-888-1212. If it is an emergency, dial 911.