The giggles could be heard down the Sandwich High School hallway as Nicole White led a group of youngsters in a puppetry exercise.
Her students had made their own puppets out of paper lunch bags and were now using them to pass sounds to each other—Zip! Achoo! Bam! —one sound after another from one puppet to the next.
Ms. White is anything but a bystander in the activity, using an authentic Jim Henson puppet that she acquired when she lived in Los Angeles.
Once the puppet exercises were over, it was time for the youngsters to start working on their class video. This project was being done using Flipgrid—a virtual learning platform designed to be like social media. Flipgrid allows students to record videos as a way to respond to questions from teachers. The videos can then be compiled by the teacher into a cohesive presentation.
This class was just one of many taking place during Summer Scholars, a summer program for students going into 2nd through 8th grades that program coordinator Kim Mello said is meant to redefine summer school.
For most students, the day consists of three one-hour periods with a math class, a reading class, and one specialty class. The specialty classes are unlike anything that students are used to during the regular school year.
Erin Mooney runs a Backyard Games class where the students get to play games such as a version of street hockey. Ms. Mooney said it is less structured than a regular gym class.
"What's been exciting is that kids are getting to know kids in other grades," she said. "The older kids are helping out the younger ones."
She said her students, being 1st and 2nd graders, are also excited to be at the high school.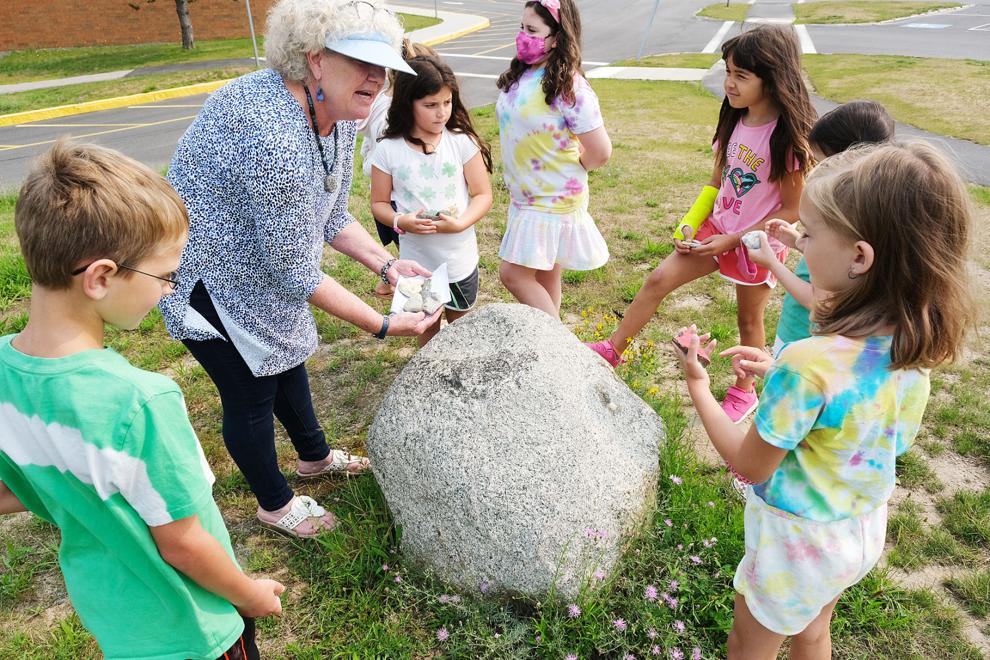 Some of the specialty classes were so popular that extra sessions had to be added. One of those sections is for younger students and is run by Cori Modisette. Each day, Ms. Modisette has her students creating works of art inspired by and using nature.
On Tuesday, July 20, she placed heart-shaped rocks for the students to find outside—an idea inspired by her late father. She then had the students write letters to someone that they love.
Ms. Modisette usually teaches students at the high school level, so working with the younger students has been a change for her, Ms. Mello said.
"Even these little guys will rise to the challenge," Ms. Mello said. "They impress her with their thoughts and ideas."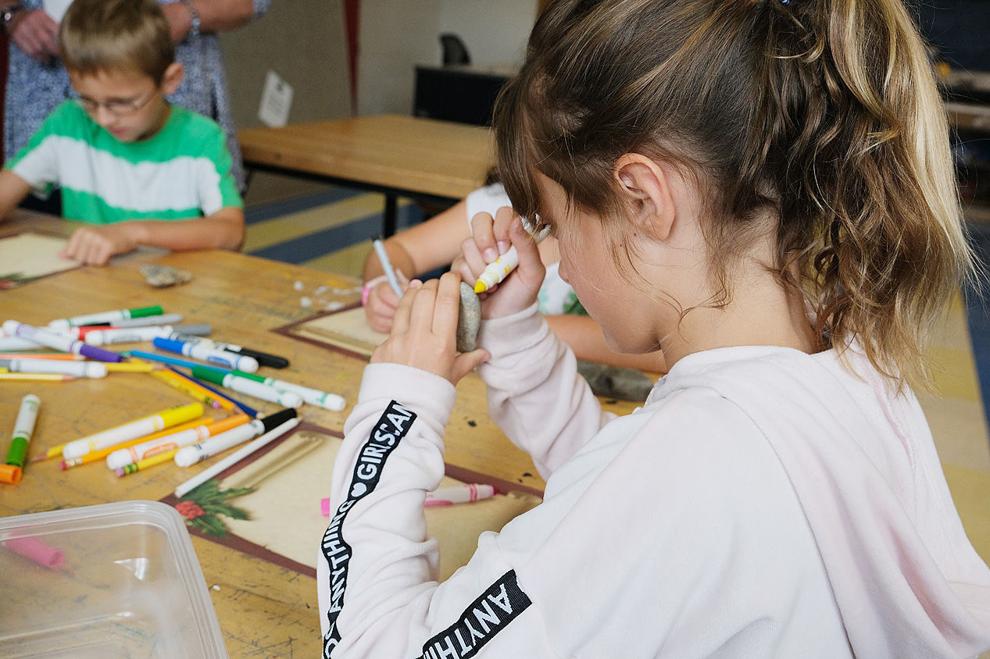 The other section is for older students and is run by Jen Condon. Taking advantage of the sunny day, her students used a combination of charms, leaves, and window clings to create designs on photosensitive paper.
Ms. Mello said that many of the specialty classes combine subjects in interesting ways. Ms. White's class, The Art of Me!, combines technology and the arts. Others are combinations of science, mindfulness, literature, STEM, art and writing.
"I think they're excited to share their passions," Ms. Mello said of the teachers.
Even the academic classes are fun and creative, ensuring that the students are engaged all day, even while reading and learning about math.
The reading classes are run like small book clubs and students have been placed with children who have similar reading abilities, so students who are in need of some extra help are placed together, as are those who are ready for a bit of a challenge.
Some of the math classes incorporate a computer coding element, to tie in with a STEM curriculum. Others keep students excited with music or art.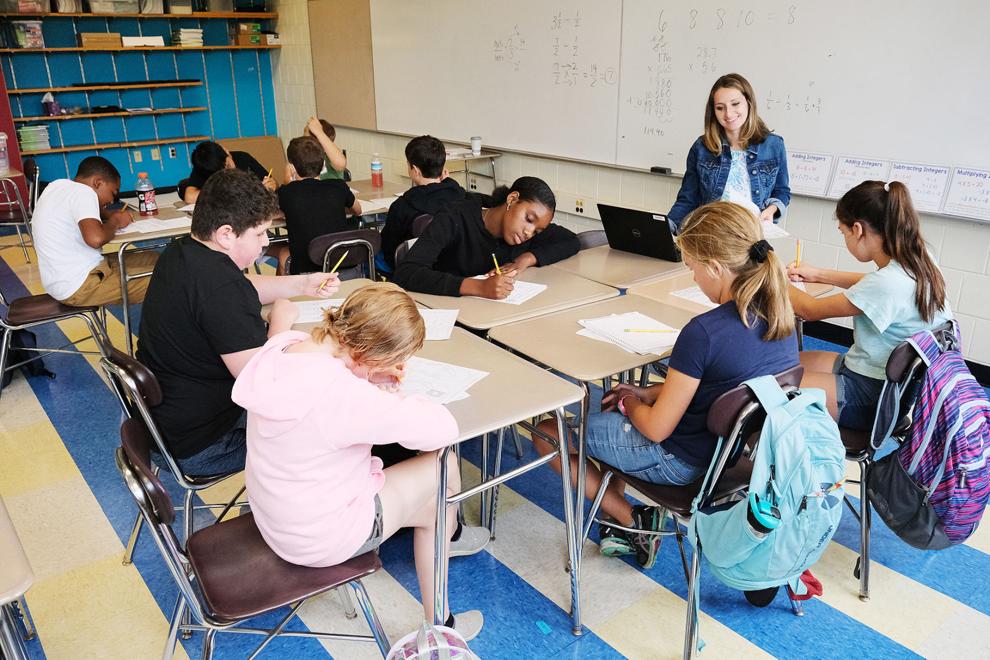 "Teachers are really thinking outside the box," Ms. Mello said. "It's also the perfect opportunity to try new teaching strategies."
In some cases, teachers are recent Sandwich graduates who are planning to study education when they go to college in the fall. Even the teaching assistants are as young as rising 9th graders. Ms. Mello said the program has been a great way to employ some of the district's older students and give them a hands-on experience in the education field.
Adding to the fun of the program are weekly raffle drawings. Each day that a student comes to the program, the student receives one raffle ticket, which can be entered into the prize of the student's choice. Students are eligible to earn up to three tickets per week, one for each day. The prizes are generally small toys, such as fidget toys, Wiffle ball bats, and pool floats.
The drawings are held each Thursday during lunch, and the students get very excited to see who won.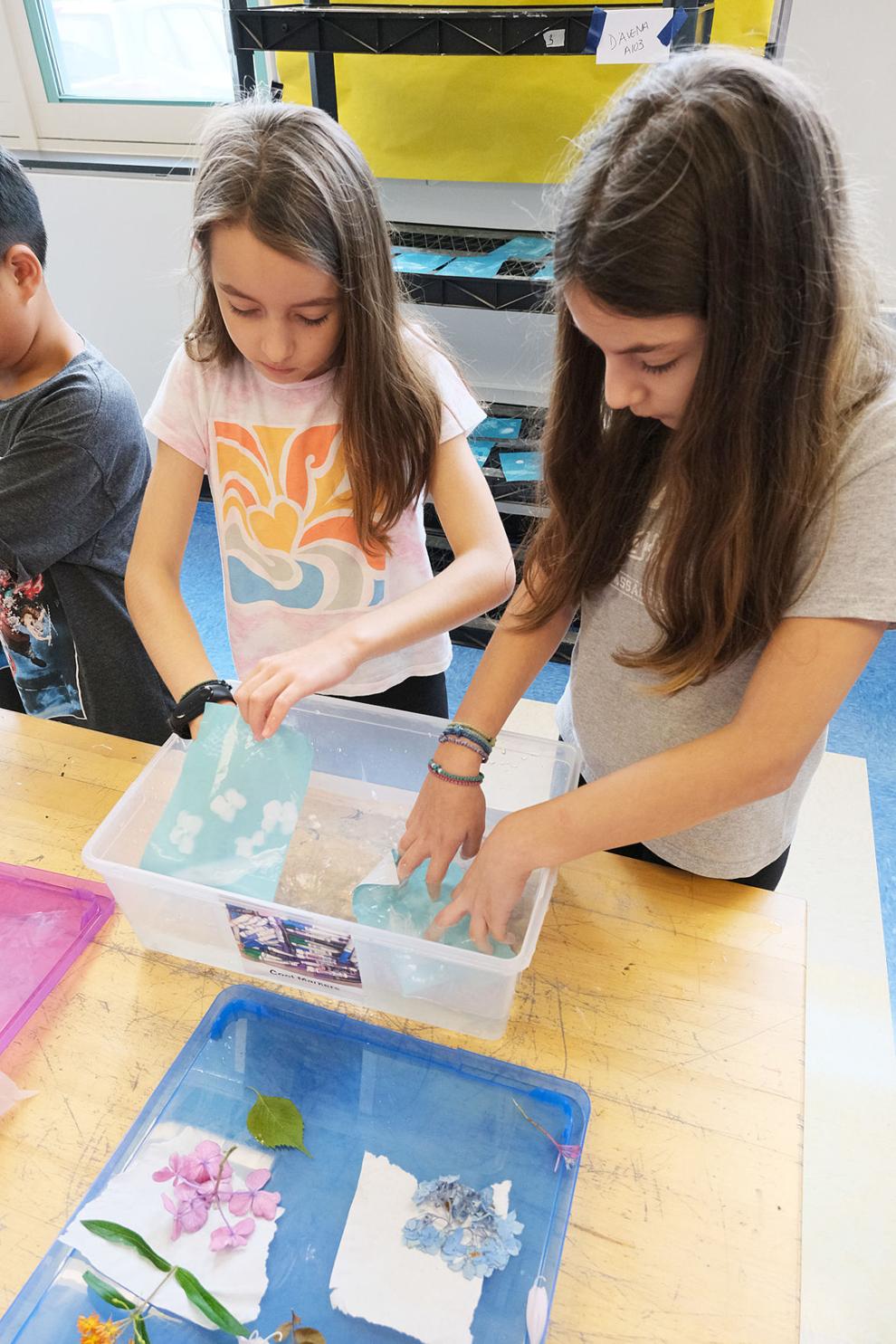 "You would have thought I was running a game show," Ms. Mello said.
This is the first year that the reimagined program has been run in the district, and it has been offered at no cost to families. It has been funded through a grant that the school district received due to the pandemic.
Ms. Mello said it has been gratifying to see Assistant Superintendent Maureen Wiklund's vision for the program become a reality. She hopes that since the first year has been as successful as it has been, that it can continue to be funded in future years.
"When you walk down the halls, you can hear a lot of giggling," she said. "It's a nice thing to see, especially after the unusual year we've had."