Earl McKeen smiled as he placed his golf clubs into his car's trunk on Tuesday afternoon, March 24.
He was clearly enjoying a crisp, cloudless afternoon at Sandwich Hollows Golf Club, even though no carts were available.
"I don't mind walking the course. I think it's good exercise," Mr. McKeen said. "Golf is one of the few things you can do and not have to worry about getting too close to other people."
Mr. McKeen, an East Sandwich resident, said he has been enjoying solitary outdoor activities since Governor Charles D. Baker Jr. this week ordered residents to stay home from work if they are not providing essential services to the public.
The recreational basketball courts in Sandwich are closed to the public effective immediately to slow the spread of the coronavirus.
"Only leave your home to address essential needs, get some fresh air and exercise, and if you do, avoid unnecessary contact with other individuals," the governor said on Tuesday.
Ryan McNally of Sandwich walked his clubs swiftly to the first tee and set up his opening shot.
"Usually I would be out with my friends, but not today," he said. "I'm glad the course is open."
Sandwich Hollows remains open and, until Monday, March 23, continued to rent golf carts, power washing them after every use, pro shop manager Rich Pina said.
"Now there are no carts going out," said Mr. Pina, speaking through the pro shop's service window. "The front end of the course is not too bad to walk—if you like to walk."
The course will be open as long as it is allowed and golfers practice safe distancing from others, Mr. Pina said.
Fees for nonmembers are collected through the service window.
People were taking advantage of the enforced time off to visit other Sandwich outdoor recreational sites on Tuesday.
There were cars in the parking lots of Maple Swamp, Ryder Conservation Lands and Cook Farm Tuesday afternoon. A smattering of people—old and young—walked dogs and strollers along Town Neck Beach and the Boardwalk.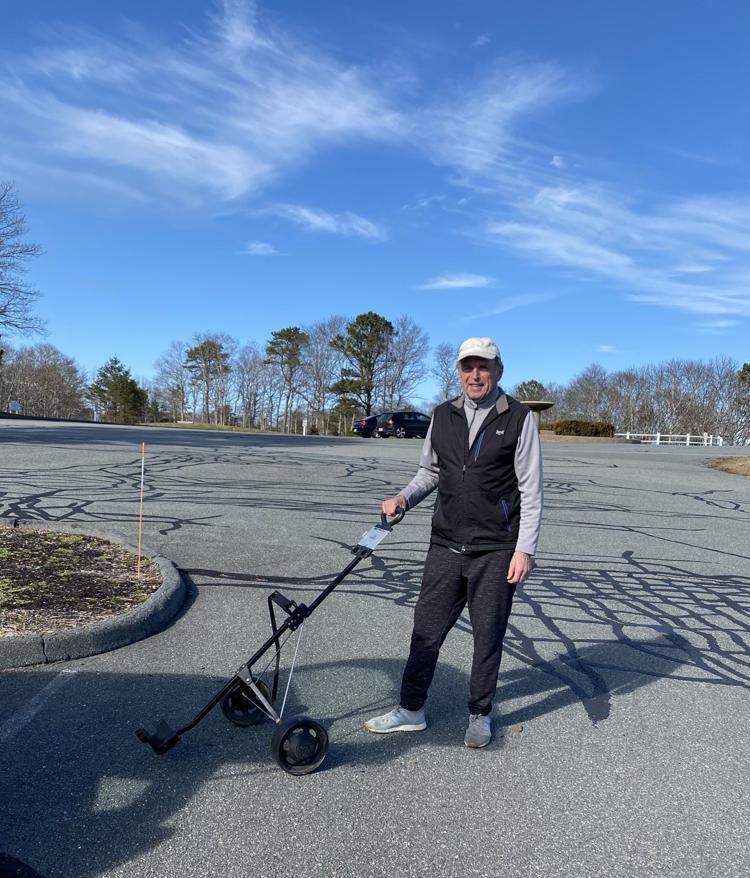 There was even a solitary surfer catching waves in front of the Drunken Seal.
Back at the golf course, Mr. McKeen, a retiree, said he and his wife have been walking at the beach and participating in indoor activities like using an elliptical machine and practicing yoga.
But the first sunny day of the week seemed like a good time to get out on links, he said.
The uninterrupted practice apparently paid off.
"I think my game is getting a little better," he said.