One of the most jarring moments in the television series "Mad Men"—and there were more than a few jarring moments—came not during a high-stakes office showdown, or a steamy after-hours sexual encounter, but at the conclusion of a picnic at a park by lead characters Don and Sally Draper and their two young children.
Having finished their picnic, the Drapers pull up their blanket and walk away, leaving their empty cans and discarded wrappers scattered over the grass.
In doing so, the Drapers were engaging in fairly common behavior for the time in which the show is set, the 1960s.
The brief vignette, lasting just a few seconds, was a reminder that what once was viewed by many as acceptable has changed.
These days, few would condone another kind of behavior: buying miniature bottles of alcohol, commonly known as nips, to drink while driving, and then throwing the empty bottles out the window onto the roadside.
But it happens a lot, judging by the roadsides of Sandwich and other Upper Cape towns.
Even if relatively few people are engaging in this behavior, they're doing enough of it to routinely leave behind a critical mass of nip bottles.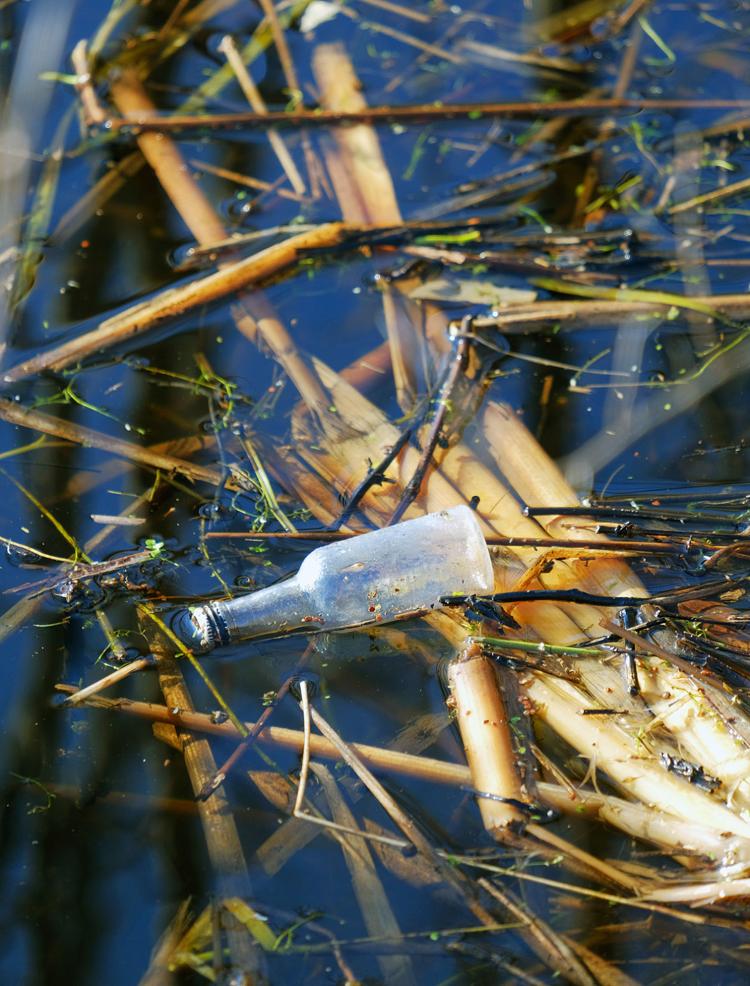 Two Upper Cape towns—Bourne and Mashpee—are currently discussing the idea of banning the sale of nip bottles in their communities. These are discussions to which Sandwich should be paying attention.
At the Bourne selectmen's meeting last week, Pocasset resident Jeremy Canfield came before selectmen to encourage the board to confront the nips problem head-on.
He said not only would banning the sale of nip bottles help eliminate roadside trash, but it has been proven to curb traffic accidents in other Massachusetts towns.
The perpetrators are breaking the law twice with these nip bottles: once by drinking while driving, and then by littering.
Nips, however, make it all easy. They are easy to conceal—far more so than a can of beer or a pint of liquor—easy to down quickly, and easy to get rid of in a flash.
The Bourne selectmen agreed that these bottles present a problem within the community and said they were open to exploring a ban.
In the Town of Mashpee, Selectman John J. Cotton, who has served as a scoutmaster for a Mashpee Boy Scout troop, spoke at a recent board meeting about what his Scouts find when they pick up litter along the town's roads.
"Half of our trash bags are filled up with nips," Mr. Cotton said.
Selectmen in that town are considering adding a restriction on the sale of nips to the annual renewal of a package store's liquor license. As the local licensing authority, the selectmen could enact the change on their own, without bringing it to Town Meeting.
Putting a nip restriction into effect in Bourne and Mashpee package stores may well prove a battle.
Mashpee Selectman Andrew R. Gottlieb warned of potential pushback on the proposal. "You know that people who sell them are going to come out in force," Mr. Gottlieb said.
The restriction also may run into legal resistance. The City of Chelsea enacted a ban on 50-milliliter alcohol bottles without challenge, but a subsequent move by the city to ban 100-milliliter alcohol bottles spurred an appeal by liquor stores to the Alcoholic Beverages Control Commission, which regulates alcohol sales in the state.
Chelsea has argued that the control commission lacks jurisdiction on the city's action. Even if that is the case, the city solicitor acknowledges that the restriction could then be challenged in court.
Other proposals have been put forward to attack nip littering. State Representative Randy Hunt has proposed legislation that would require a five-cent deposit on nips.
Rep. Hunt said that while his bill is not going to prevent someone from slinging an empty nip bottle out the window, the five-cent deposit could come as an incentive for someone to come along later and pick it up.
That's exactly the effect that the five-cent deposit on cans and bottles that once contained beer and soda has had in Massachusetts.
Cans and bottles once routinely could be found along roads in Massachusetts. Now, following enactment of the required five-cent deposit, far fewer are tossed aside as litter—and those that are do not stay there for long.
Maybe restrictions on the sale of nips by cities and towns will not stand a legal challenge. And perhaps Mr. Hunt's legislation to require a deposit on the sale of nip bottles will not gain enough support to go into effect.
But at least Mashpee and Bourne officials are trying to address a problem that too long has lingered along the roadsides. And with any luck, future generations will look back with surprise at a practice that, like the Drapers' casual post-picnic littering, routinely occurs.