Two Sandwich/Upper Cape Tech wrestlers grappled their way to Division 3 South Sectional wrestling titles—one of whom successfully defended his 2019 crown.
Senior co-captains Connor Keegan and Tanner Davison each won their respective weight classes as the Blue Knights team finished fourth overall and will send eight players to the Division 3 state finals this weekend.
Foxboro, the host school, finished first in the team standings with Norton and Cohasset edging out Sandwich for the top three during the all-day tournament on Saturday, February 15.
Connor Keegan, competing at the 126-pound division, beat Foxboro's TJ Whitehouse in the quarter finals, making quick work of his competition to advance. He later went on to score a 17-2 technical fall win against Bristol-Plymouth/Coyle-Cassidy's Liam Norton in the semifinals before handing Norton's Alex Turcotte a 15-3 loss in the 126-pound finals.
The championship finals had extra weight, with Keegan defeating Turcotte in last year's Division 3 South Sectional 120-pound finals on his way to an eventual state title.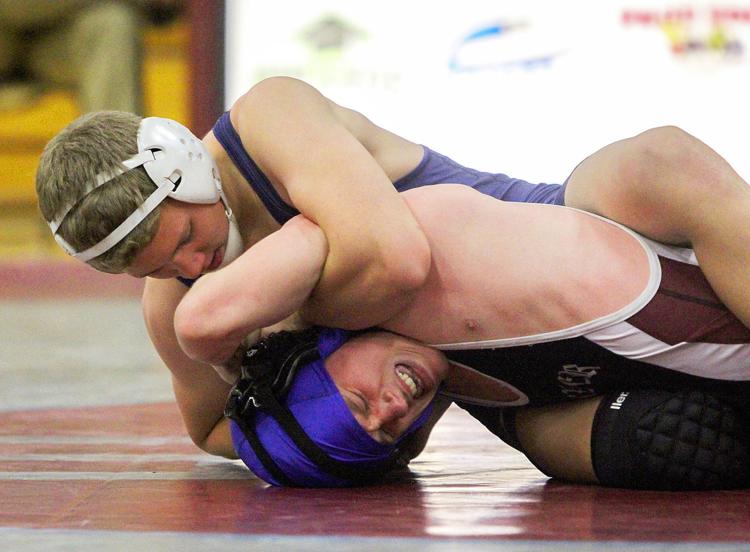 In the 145-pound division, Davison advanced passed Scituate's Patrick Sullivan before outlasting Norton's Ian Barker, 3-2, in the semifinals. Davison found himself on the winning end of another closely-contested bout with Bristol-Plymouth/Coyle-Cassidy's Chris Fernandez in the finals, earning the 4-2 win and the title.
Sophomore Connor Coutinho reached the finals of the 220-pound weight class, ultimately falling to Rockland's Owen Shea, for a second-place finish. He beat Cohasset's Walid Kilani and Nauset's Henry Gildehaus en route to his finals appearance.
Junior co-captain Kevin Keegan earned a third-place finish in the 138-pound division—marking the second-straight year he finished third at sectionals—while classmate Kayo Torres also took third in the 170-pound class. Freshman Gavin Potter (106 pounds) and sophomore Andre Penney (285 pounds) finished fourth in their respective weight classes while freshman Keith Ricci earned fifth overall at 195 pounds.
Freshman Avery DeOrsey (113 pounds) just missed out on advancing to states with a sixth overall finish while his eight aforementioned teammates will travel to the Division 3 state tournament in Wayland on Friday, February 21.