For just the second time this season, the Sandwich boys' basketball team on Tuesday, January 15, found itself on the right side of a tight game.
Hosting Martha's Vineyard in a Cape & Islands League Atlantic game, the Blue Knights exploded in the second quarter and withstood a third-quarter run en route to a 57-50 win.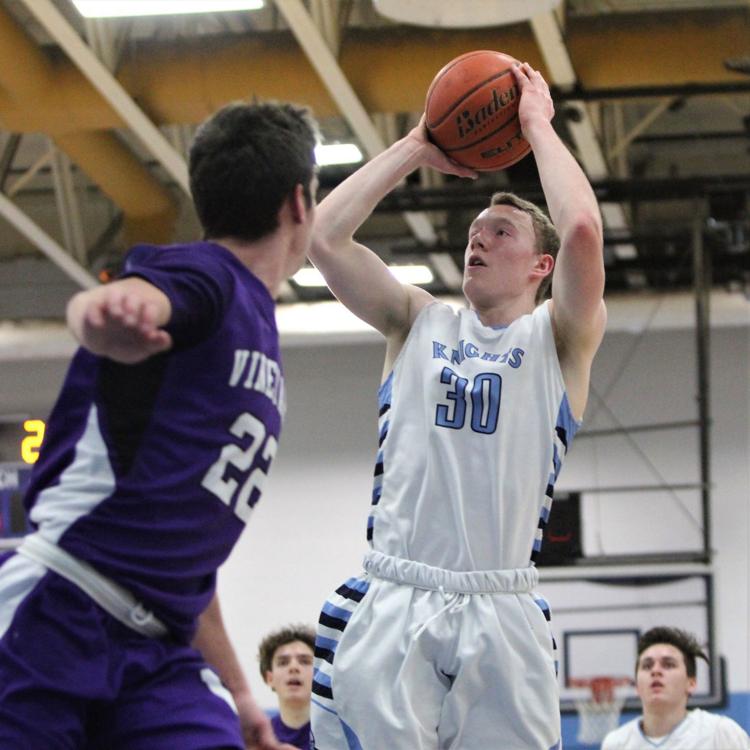 Sandwich trailed 20-16 after the first quarter of play, but that deficit wouldn't last long. The Knights turned up the heat in the second quarter, using a suffocating defense and plenty of quick-strike scores to build up a 34-26 halftime lead. Chris Cronin added six points on three field goals while JP Downes' six points came on 3-pointers. Buckets from Matt Mandy, Tim Bengtson and Colby Leighton rounded out the balanced quarter of scoring for Sandwich.
The Vineyard struck back in the third quarter, outscoring the hosts 18-14, to earn a 44-all tie entering the final frame. Mike Trusty (11 points) and Aidan Araujo each knocked down 3's to propel the Vineyarders back in the game.
Leighton and Cronin each hit a pair of free throws and a basket to pace Sandwich in the fourth quarter. Defensively, meanwhile, the Knights got back to their suffocating ways, holding the Vineyard to six points—four made field goals and just one field goal.
Cronin scored a game-high 22 points, treated to the home crowd to an array of dribble drives, crossovers and step backs. Leighton had 12 points while Downes recorded 10 points. Sean Lansing chipped in with seven points.
MV was led by Jared Regan's 18 points, 12 of which came in the first quarter from beyond the arc. Rammon Dos Santos and Aidan Rogers each had seven points for the visitors.
Barnstable 60, Sandwich 59
Downes sank a three-pointer with 11 seconds left to pull the Blue Knights boys' basketball team within a point, 60-59, but the visitors couldn't cap off the comeback against Barnstable on Friday, January 10.
The Knights fell behind by 20 points in the first half and entered the break trailing, 36-20, but a second-half surge propelled Sandwich back into the game.
Cronin scored 16 of his team-high 20 points in the second half, including 10 from the charity stripe. Downes also caught fire over the final 16 minutes, scoring all of his 14 points during the third and fourth quarters.
But Barnstable was able to stay in front, 58-54, despite the push by the visitors with a minute remaining in the game before a pair of free throws sealed the game for the Raiders. J'Adaro France poured in a game-high 29 points, including 12 points from beyond the arc, while Lansing contributed 10 points.
Sandwich (2-6, 1-3 C&I Atlantic) hosts Falmouth in a Cape & Islands League Atlantic showdown at 6:30 PM today on Friday, January 17.